Author silent on Garcia Marquez row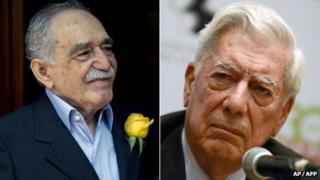 Peruvian author Mario Vargas Llosa has vowed never to reveal the dispute that put an end to his friendship with the late author Gabriel Garcia Marquez.
"He respected it until his death and I will do the same," he said.
The Nobel laureate said he would honour a pact with Garcia Marquez not the reveal the cause of their decades-old enmity.
The pair were close friends until a falling-out in 1976, which left Garcia Marquez with a black eye.
The argument was rumoured to be either over politics or Vargas Llosa's wife.
"There's a pact between Garcia Marquez and myself," the 78-year-old author said when quizzed about the nature of the argument following the fellow writer's death last week.
"Let's leave it to our biographers, if we deserve them, to investigate that issue."
Vargas Llosa, who once wrote a thesis on his then-friend Garcia Marquez, paid tribute to the Colombian author, who died at the age of 87 in Mexico.
"His work lives beyond him," he told an audience in Venezuela.
Garcia Marquez was considered one of the greatest Spanish-language authors, best known for his masterpiece of magical realism, One Hundred Years of Solitude - published in 1967.
He was awarded the Nobel Prize for literature in 1982.