Eurovision hopeful Molly: 'I've already won in a way'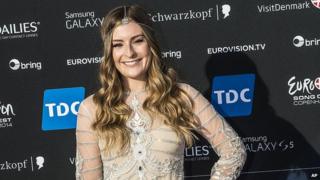 Back in January, Molly Smitten-Downes was working part-time in a shop to help pay for her band's rehearsal room - now she is in Denmark for the 59th Eurovision Song Contest.
This Saturday in Copenhagen she will fly the flag for the UK with her self-penned song Children of the Universe.
Bookmakers saw a flurry of bets for Molly after this week's rehearsal at the 2014 venue, B&W Hallerne, a revamped shipyard.
She told the BBC the whole experience has been "a whirlwind" and "a dream".
What's been the most surprising thing about Eurovision?
The whole thing is just this big machine of positivity and excitement and I really wasn't anticipating that.
There's this big "Eurovision army" that takes it seriously, but in a really fun way. They are so encouraging and positive about all the entries and it's a really nice vibe. It's come as a surprise.
Have you been swotting up on your Eurovision facts?
No I haven't, and I should do, but I feel like I'm learning slowly. You meet some people, they're amazing, they know everything.
I do feel a little bit dumb, when they're like "How do you not know who came tenth in 1980?". There should be a Eurovision Mastermind competition!
What kind of reaction have you had from different countries?
In the UK there's been a lot of people going "they don't like us in Europe" and actually I've not found that to be the case at all. I've been getting messages of support all over. We've been to Amsterdam and Malta and got such a warm welcome.
Is it a bit weird having all this attention so suddenly?
It's a little bit surreal, but I've been working hard for a long time. I think a lot of people are like "Who is this, where has she come from?" but I've been chipping away at it bit by bit.
So, yes, it's a massive leap from where I was a few months ago, but it all feels like this is how it should be, if that makes sense. This is what I want my life to be.
Who do you look up to, then?
People like Kate Bush, Blondie, Fleetwood Mac. People that have had long-serving careers and are still taken seriously and really made an impact on the music industry. I think in 10 years time if I can look back and have a music career for that stretch of time, I'll be happy.
You have said you want to change the way sceptics look at Eurovision, how is that going?
I've had a fair few messages now saying "I don't usually watch Eurovision, but I actually really like this track". That's exactly the sort of reaction I was hoping for - because, in a lot of ways, I'm one of those people.
I just feel like it's time to change, I feel like the competition has changed. It is very contemporary now, the winners are contemporary acts that are breaking through internationally.
The UK needs to see it as a great platform for new music and for us to present decent stuff that represents what we're putting out.
If we enter the right acts and the right songs it's got so much potential. I'm hoping that next year, and the year after, they go down the same route and pick someone who needs a break.
If we don't do well - if you hear 'nil points' - have you prepared your game face?
If anyone gives me nil points I'm going to go berserk! I'm going to trash the green room!
No, obviously I've thought about it. I'm not looking forward to the points reading out, I do think that going to be the worst bit.
But at the same time, I do feel like, for someone like myself, I've already won in a way. Because in January I was working part-time in a shop just to support my band and now I've got an album deal and a hundred-and-whatever million people are going to be hearing a song I've written. So even if 1% of them like it, that's one million people.
Which Eurovision songs do you like? Do you veer towards the novelty acts or the more sensible ones?
I do veer more towards the sensible ones. I guess that's a bit boring. But I actually really like the Twin Twin French one, I think it's really good fun.
Norway's got a really good entry, I think Spain's got a great entry, Armenia - the production of that song is incredible, so there's some really strong, credible tracks in the competition which I'm really happy about. I think it shows it's a worthy competition.
Will you be taking anything out there for good luck or to remind you of home?
I love crystals and my mum bought me a little heart-shaped crystal for good luck. It's in my jacket pocket. I'm just going to be thinking of all my friends and family, knowing that they're wishing me well, that's going to give me so much strength and comfort. That sounds a bit corny, actually, but it's the truth!
You've supported lots of artists, including Tinie Tempah and Jake Bugg - have you learned a lot from them?
Definitely. Do you know what the key is? It's just being yourself, and being authentic. I think that the best performances have been when people really like what they're performing or singing. That's something that I feel now, which feels good.
I actually can't wait to do the show. It is going to be without a doubt the best show I've ever done.
The second Eurovision semi-final is on BBC Three from 20:00 BST. Graham Norton hosts the grand final on BBC One this Saturday, 10 May, from 20:00 BST.