London Grammar vie for top Novello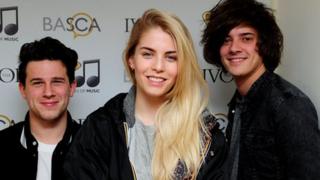 London Grammar, John Newman and Palma Violets are in the running for this year's prestigious Ivor Novello songwriting award.
Newman's Love Me Again vies with London Grammar's Strong and Best of Friends from London-based band Palma Violets.
The annual awards, now in their 59th year, celebrate songwriting and composing and are voted for by songwriters.
They will be presented at a ceremony in London on 22 May.
Last year's Mercury Award winner James Blake is nominated for best contemporary song for Retrograde in a shortlist that includes Kemosabe by Everything Everything and Latch by Disclosure featuring Sam Smith.
In the best album category, the Arctic Monkeys are nominated for AM, but face competition from Nick Cave and The Bad Seeds for Push The Sky Away, and Laura Mvula for Sing to the Moon.
The Arctic Monkeys won the same award in 2007 for Whatever People Say That I Am, That's What I'm Not.
"The Ivors nominations clearly reflect the health of British songwriting and composing, highlighting the wealth of creative talent the UK possesses," said Simon Darlow of the British Academy of Songwriters, Composers and Authors (Basca).
"Basca is delighted that The Ivors continue to be the award songwriters and composers want to win, and I congratulate everyone represented here today," he added.
London Grammar members Hannah Reid, Dot Major and Dan Rothman were at the nominations announcement in London and called it an "amazing honour" to be in the running for best song.
"I think we're just incredibly grateful and stuff like this, you do end up pinching yourselves, its pretty amazing," said Rothman.
The group wrote the song together in Rothman's garage and Reid told the BBC News website Strong's lyrics were inspired by her own experiences growing up in London.
"It's about being objectified, when you're really young and how just that small thing of being cat-called can really shape how women see themselves," she said.
"It started happening to me and my girlfriends when we were about 13," she added. "So it's just saying 'stop doing it, it's really annoying!'."
The nominations include a shortlist for most performed work, with Emeli Sande's Clown, Let Her Go by Passenger and Olly Murs' Troublemaker featuring Flo Rida, competing for the title.
Last year Sande won two awards including most performed work, for her track Next To Me.
The films Gravity, Captain Phillips and The Epic of Everest won nominations for their composers for the best original film score award, while TV series Mr Selfridge, Ripper Street and The Thirteenth Tale were nominated for best television soundtrack.
Additional awards will be presented to composers and songwriters at the May ceremony, in recognition of their contribution to British music.
Best song musically and lyrically
Best of Friends - Palma Violets
Love Me Again - John Newman
Strong- London Grammar
Best contemporary song
Kemosabe - Everything Everything
Latch - Disclosure featuring Sam Smith
Retrograde - James Blake
Best album
AM - Arctic Monkeys
Push the Sky Away - Nick Cave and The Bad Seeds
Sing to the Moon - Laura Mvula
PRS for Music most performed work
Clown - Emeli Sande
Let Her Go - Passenger
Troublemaker - Olly Murs featuring Flo Rida
Best original film score
Captain Phillips - Henry Jackman
Gravity - Steven Price
The Epic of Everest - Simon Fisher Turner
Best television soundtrack
Mr Selfridge - Charlie Mole
Ripper Street - Dominik Scherrer
The Thirteenth Tale - Benjamin Wallfisch