Privacy: The play that wants audience selfies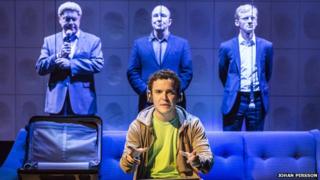 Theatre-goers are usually implored to switch off their mobiles. But a new play, Privacy, not only wants your smartphone left on - it gives it a starring role.
A unique theatrical moment occurs during the first half of Privacy, which opened this week at London's Donmar Warehouse.
The characters on stage ask audience members to take a selfie on their phones and then email them to a researcher who is tapping away on a computer at the back of the set.
To reveal what happens to the photos would be a spoiler, but they are a key part of James Graham's new play - which examines the digital footprint all of us are leaving online.
Graham admits that until the first preview he had no idea whether audiences would participate in the interactive side of the play.
"There could have been a version of this show where people didn't want to get involved. The first time people lifted up their phones to take a selfie was the most thrilling I've had in the theatre."
Graham had a big hit in 2012 with his political drama This House at the National's Cottesloe Theatre. It transferred to the Olivier in 2013 where it had a sell-out run.
Later that year, Graham and the Donmar's artistic director Josie Rourke began discussing the idea of a play that would explore how governments and corporations collect and use personal information.
Things properly took shape in the wake of Edward Snowden's National Security Agency (NSA) revelations leaked to The Guardian last summer.
Snowden isn't a character in the play but several Guardian journalists are, as well as politicians Lord Paddy Ashdown, Foreign Secretary William Hague and Sir Malcolm Rifkind.
There are even characters based on Graham and Rourke - The Writer and The Director, played by Joshua McGuire and Michelle Terry respectively.
While Privacy draws on verbatim interviews with politicians, journalists and campaigners it also relies on data gathered from the audience each night.
It means no two performances are the same.
"We can't get all the information for the show until it starts at 7.30," says Rourke. "It's tremendously exciting but it makes for some seat-of-the-pants stuff."
Graham adds: "It requires a brilliant cast who walk out on stage every night and don't quite know 100% what is going to happen."
As well as sending selfies, the audience is encouraged to Google for pizza and delve into their phone settings.
"Part of the ambition of the show is to have people understand the relationship between them and the data," says Rourke.
Graham asserts he didn't want to create a dystopian vision.
"It's not meant to be provocatively implying we should all dump our iPhones in the dustbin or go into the cellar," adds Graham.
"I genuinely believe that a lot of this stuff is exciting. It's great that Google allows us to search the internet. It's great that Facebook provides me a capacity to connect with my friends.
"But what's important is to make sure we have that conversation about the nature of that contract. I think the danger is that you sleepwalk into a culture where you don't question that.
"At 13 or 14 you just assume that Facebook is like water or electricity. A lot of this stuff is amazing but we have to ask if the balance is right."
Graham points out the volume of information we share about ourselves has changed radically in the last five years in a way it hasn't in the last 500.
So has his work on Privacy changed his own online habits?
"I'm aware of what I share. When I click 'tweet' or 'status update' I'm more conscious that I'm actually publishing. I make a choice to publish that thought and I know that might come back to haunt me."
Rourke, meanwhile, will be happy to see the faces of the audience glowing in the light of their mobiles at the Donmar over the next six weeks.
"As a director you spend a lot of time trying to get people to switch their phones off before a show, so its hugely refreshing to let them leave them on."
Privacy runs at the Donmar Warehouse until 31 May.