Amazon and HBO sign streaming deal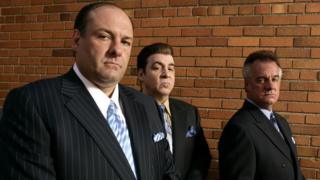 Customers of streaming service Amazon Prime in the US will be able to watch TV shows including The Sopranos and The Wire as part of a licensing agreement with subscription channel HBO.
Previous seasons of current shows like Girls and Veep will also be available around three years after first airing.
It is the first time HBO programming has been licensed to an online-only subscription streaming service.
The first batch of shows will be made available from 21 May.
Deadwood, Rome and Six Feet Under are among other titles that will be offered, alongside miniseries Band of Brothers, The Pacific and Parade's End.
Yet there is no mention in Amazon's official press release of fantasy series Game of Thrones, its current ratings smash.
"HBO has produced some of the most groundbreaking, beloved and award-winning shows in television history," said Brad Beale, Amazon's director of content acquisition.
"Now Prime members can enjoy a collection of great HBO shows on an unlimited basis."
"We are excited to have our programming made available to [Amazon's] vast customer base," said Charles Schreger, HBO's president of programming sales.
Glenn Whitehead, executive vice president of business and legal affairs, added: "We couldn't think of a better partner to entrust with this valuable collection."
A spokesman for Amazon said the new deal was only available to US customers of Prime Instant Video, the subscription-based part of Amazon's streaming and download service.
Before this deal HBO did not allow Netflix, Hulu, Amazon Prime or other US streaming services access to its programmes, restricting them instead to its own HBO Go streaming service.
Go is likely to be offered by the end of 2014 on Amazon's Fire TV, an internet-connected system allowing consumers to stream content directly to their TVs.