Top Gear expresses regret for 'slope' remark in Burma special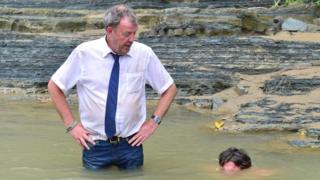 The executive producer of Top Gear has expressed regret for a "light-hearted" remark on its Burma special that led to the BBC show being accused of racism.
Broadcast in March, the show saw Jeremy Clarkson use the word "slope" as an Asian man crossed a newly built bridge over the River Kwai in Thailand.
Executive producer Andy Wilman said it had been a "joke referencing both the build quality of the bridge and the local Asian man who was crossing it".
"[We] regret any offence caused."
The use of the word - which is a derogatory term for people of Asian descent - led to complaints and the threat of legal action from Equal Justice, a law firm specialising in discrimination cases.
Acting on behalf of actress Somi Guha, the firm accused Clarkson of "clear gross misconduct" and said his comments made the BBC appear "institutionally racist".
"We were not aware at the time, and it has subsequently been brought to our attention, that the word 'slope' is considered by some to be offensive," Wilman said in a statement.
"Although it might not be widely recognised in the UK, we appreciate that it can be considered offensive to some here and overseas, for example in Australia and the USA.
"If we had known that at the time we would not have broadcast the word in this context."
The incident follows previous episodes of the BBC motoring show that landed its presenters in hot water.
In 2011 the BBC apologised for remarks on the programme that characterised Mexicans as lazy and feckless.
Comments likening the design of a camper van to people with facial disfigurements the following year, meanwhile, were later found to be "not editorially justified" by the BBC Trust.