Tony Blackburn to get top radio honour for second time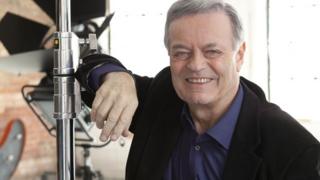 Tony Blackburn will be honoured with The Radio Academy's lifetime achievement award for a second time, to mark his 50 years in broadcasting.
He was originally handed the Gold Award in 1989 to mark his 25th radio anniversary, but organisers said his 50th could not go unrecognised.
Blackburn has been heard on stations from BBC Radio 1 to Capital Gold since starting out on Radio Caroline in 1964.
He said he was "truly honoured" to be the award's only double winner.
"I have made a living out of my passion. Being a radio presenter, in my opinion, remains the greatest job in the world," said Blackburn.
"I want to thank everyone who has given me a job, the amazing artists whose music I have played and, most importantly, the listeners who have listened to me for the past 50 years.
"Without you on the other end of the microphone, I'm just a man, in a room talking to myself for hours on end. "
He will be handed the award at the 32nd Radio Academy Awards at London's Grosvenor House Hotel on 12 May.
A statement from organisers said the award is in recognition of "his love of the medium and remarkable work ethic", as well as his longevity.
Blackburn's career has been full of high-profile presenting jobs, including being the first DJ to broadcast on Radio 1 when it launched in September 1967 - a station where he spent 17 years.
He then presented BBC London's weekday mid-morning show before becoming one of the launch presenters on Capital Gold.
Since 2010 he has hosted Radio 2's Pick of the Pops every Saturday afternoon, and he also currently presents shows on BBC London 94.9, BBC Radio Berkshire, the Magic network, BBC3CR and KMFM.
Blackburn also won ITV's I'm A Celebrity, Get Me Out Of Here! in 2002.
"Tony Blackburn is not only loved by his listeners, but also by his fellow broadcasters right across the UK," said The Radio Academy's John Myers.
"He has become an icon of British broadcasting with a commitment to and a love for radio that remains unmatched by just about anyone in the medium today."