Tom Hanks and Steven Spielberg to reunite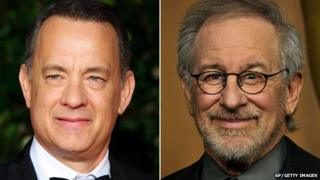 Actor Tom Hanks and Steven Spielberg are set to work together for a fourth time on a new Cold War thriller.
The untitled DreamWorks film is being produced by Spielberg who is also said to be considering a directing role, according to Variety.
Hanks and Spielberg have previously teamed up for Saving Private Ryan, Catch Me if You Can and The Terminal.
The new project is about real-life US lawyer James Donovan, who was enlisted by the CIA during the Cold War.
Hanks will play Donovan, who had to negotiate the release of a pilot captured when his U2 spy plane was shot down over Russia.
DreamWorks has declined to comment, but the film is thought to be one of several directing projects being considered by Spielberg, who is already producing the film along with Marc Platt.
Other possibilities are Robopocalypse and the historical drama Montezuma, from American Gangster and The Girl with the Dragon Tattoo writer Steve Zaillian.
Spielberg won a best director Oscar for his 1998 World War Two epic Saving Private Ryan, which also saw Hanks nominated for his role as Captain John H Miller.
Hanks is currently shooting indie film A Hologram for the King, based on the novel of the same name by Dave Eggers.