Quentin Tarantino stages reading of leaked film script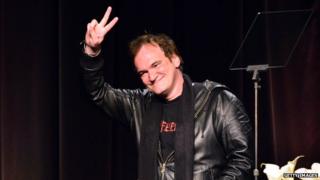 Samuel L Jackson, Bruce Dern and Michael Madsen have joined Quentin Tarantino in Los Angeles for a reading of his leaked script, Hateful Eight.
Once due to be the follow-up to Django Unchained, Tarantino cancelled the film in January after the script spread around Hollywood and film websites.
At the time, he said he was "very, very depressed" by the leak.
But he was in better spirits for the one-off live reading and hinted his movie may yet see the light of day.
"I'm working on a second draft and I will do a third draft but we're reading from the first draft," he told the audience at Los Angeles' Theatre at the Ace Hotel.
The 51-year-old also suggested the script would be changed substantially in future drafts - in particular the final act, which he described as the "fifth chapter".
"The chapter five here will not be the chapter five later so this will be the only time it is seen, ever," he said.
Set in post-civil war Wyoming, the Western drama takes place after a blizzard diverts a stagecoach from its route, stranding a mismatched group of outlaws in a "haberdashery".
Among their number are a competing pair of bounty hunters, a renegade Confederate soldier and a female prisoner.
Four of the five "chapters" take place almost entirely within one room, said the Hollywood Reporter, which described the plot as an Agatha Christie-style whodunnit, albeit with added violence.
Several of Tarantino's old cast-members took part in the reading, with Tim Roth (Resevoir Dogs, Pulp Fiction), Kurt Russell (Death Proof) and Amber Tamblyn (Django Unchained) all on stage.
"We've been rehearsing this for the last 3 days and we're not bad," said Tarantino.
Jackson and Russell played the duelling bounty hunters, while Madsen played cowboy John Gage and Tarantino narrated.
"Guys, you are starting to drift away from the dialogue on the page," he told the ensemble at one point. "No more co-writing!"
About 1,200 people attended the show, with tickets priced between $150 - $200 (£90 - £120).
Among the audience were film mogul Harvey Weinstein, who has distributed several of Tarantino's movies, and X-Men writer David Hayter.
Mobile phones were banned, and there was no live stream of the event.
Meanwhile, Tarantino is suing gossip website Gawker for contributory copyright infringement after it posted a link to the leaked screenplay.
The trial is due to start on 27 January, 2015.