Benefits Street follow-up in pipeline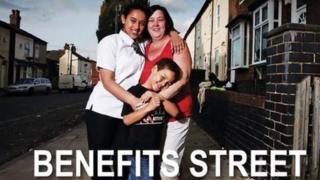 The producers of Channel 4 documentary series Benefits Street have confirmed they are working on a follow-up with the working title Immigration Street.
Kieran Smith of Love Productions said the show was in "the very early stages" and had yet to be commissioned.
He said his company had been talking to residents on Derby Road in Southampton, describing it as "a place with a long history of an immigrant population".
Benefits Street provoked controversy when it aired earlier this year.
The series was accused of negatively portraying benefits claimants in Birmingham's Winson Green area and generated hundreds of complaints.
Speaking on BBC Radio 5 live on Wednesday, Mr Smith said the new show was "coming from the same stable as Benefits Street".
'Interesting area'
"We thought there was something to do about what happens to immigrants when they arrive in this country who are looking to be part of British society.
"We thought Derby Road was an interesting area that reflects what happens when immigrants move into an area and change the look of an area," the executive producer continued.
He admitted he had met community leaders "who are worried about the impact it might have" and pledged to show Derby Road's residents any programme shot there ahead of transmission.
Benefits Street, described by its makers as a "fair and balanced observational documentary [that] sparked an important debate about the welfare system", was a ratings winner for Channel 4.
The broadcaster confirmed Love Productions was researching "a potential new series... looking at life in a community where diverse groups of people live alongside one another".
"The title and location are not yet confirmed and discussions are ongoing with local people."