Channel 4 'supercharges' arts coverage with £3m boost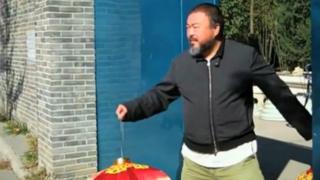 Channel 4 is "supercharging" its arts coverage to include a new TV series showcasing young artists and film-makers, after a £3m boost in funding from Arts Council England.
The channel will relaunch its Random Acts strand, featuring short films made by artists, with a new half-hour weekly show in a more prominent TV slot.
It follows recent moves by the BBC and Sky to bolster their arts coverage.
Channel 4 said it will push young talent and "contemporary culture".
The three-minute Random Acts films have previously featured work by Ai Weiwei, Jake and Dinos Chapman, Marina Abramovic, singer Tinie Tempah and poet Kate Tempest.
They are currently shown late night on Channel 4 and online but the broadcaster said the new TV slot would allow "more visibility" and bring "cutting edge" culture to "mainstream TV audiences".
"There's an incredible world of short-form filmmaking online that has got detached from television and isn't seen by as nearly as many people as it should be," said commissioning editor John Hay.
The new £3m Arts Council England partnership will fund regional networks to help develop 16-24-year-old creative artists and film-makers, whose work will be shown alongside shorts from more established artists, commissioned directly by Channel 4.
"What we're doing with Random Acts is trying to invest in the next generation of arts coverage," Hay told the BBC News website.
"This is a chance to take direct action to go and find those people - find the next Steve McQueen or the next Clio Barnard right across the country and make sure that those people don't miss out on the chance to get their work on screen."
Sir Peter Bazalgette, chair of Arts Council England, praised Channel 4's "knack for giving a voice to younger audiences" and said the show would help "inspire new, diverse and dynamic young talent".
Hay added: "Without wanting to sound too preachy, I think the work we're planning to do together has the power to change a lot of people's lives."
'Beyond the bubble'
Random Acts will relaunch this winter with a more enhanced presence online, alongside the new television show.
The films covering art, dance, animation, music and opera will also be showcased on the new 4Shorts hub on Channel 4's on-demand service 4oD, where viewers can interact and share the content.
Last month BBC director general Tony Hall announced the corporation would be putting arts "at the very heart of what we do" making its "strongest commitment to the arts in a generation".
Plans include The One Show broadcasting live from the Hay Literary Festival as well as showing performances from Glyndebourne, the Edinburgh Festival and Shakespeare's Globe theatre.
However Hay said Channel 4's increased arts budget and TV hours - which include another Grayson Perry series and The Great Instrument Amnesty fronted by musician James Rhodes - were not a reaction to plans by the BBC or Sky Arts.
"We're very much about a commitment to exploring contemporary culture, not historical stuff, and to getting artists' perspectives on big social and political events and issues of the day," he said.
"Rather than doing documentaries that treat them as the object of the study, we try to think of artists doing TV rather than TV about artists."
He added Channel 4's objective was to have an impact "beyond the bubble of existing arts enthusiasts".
"Look at [recent programme] Our Gay Wedding: The Musical - that exemplified all of those things. It was political, it was about something that mattered, it was playful and innovative in it's form," he said.
"It was the top story in the Mail, trending on Twitter; they were on the This Morning sofa. It didn't dilute the content in any sense to do that, but it reached beyond the audience of committed enthusiasts."