Emma Thompson criticises 'grey pound' films for older audiences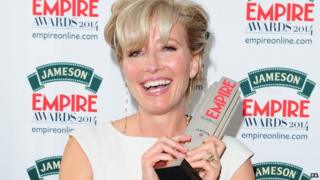 Making films that specifically target older people is "a mistake", according to Oscar-winning actress Emma Thompson.
Many studios have tried to capitalise on the success of films like Calendar Girls and The Best Exotic Marigold Hotel, both of which had older casts.
But Thompson told BBC Radio 4's Front Row that separating audiences into groups was "a mistake culturally, artistically and economically."
The actress appeared on the show to promote her new film, The Love Punch.
The film, which co-stars Pierce Brosnan and Celia Imrie, has a slightly older cast than a typical Hollywood blockbuster, but Thompson said it aimed "to entertain everybody".
"This film isn't for older people, that would be a tragic mistake to indicate that we were making this for older people," she said.
"What I find really fantastic about it is that it's young people who seem to enjoy it just as much, if not more."
Thompson continued: "I don't see where age has to come into it - it's been made to entertain everybody in the groups that we're supposed to be in, which is a selection of ages.
"The fact is that the film industry has tried to separate us into groups, and it's a mistake culturally, artistically and economically."
The Best Exotic Marigold Hotel, which starred Dame Judi Dench, Dame Maggie Smith and Bill Nighy as British pensioners at a retirement hotel in India, took $134m (£83m) worldwide in 2012.
It was a huge return on an estimated $10m (£6.2m) budget and a sequel is currently being filmed. Titles such as Last Vegas, Quartet and A Song for Marion have followed in its wake.
They are said to be targeting the "grey pound" - targeting the ageing population, who can often visit the cinema during the quieter daytime periods.
"I long for the day where we don't have to talk about our age as actresses," said Imrie, pointing out that her character's age in The Love Punch was "incidental" to the plot.
"I don't want us to have to bang on about it anymore, because the more actresses go on the more interesting and fascinating they are," Imrie told Front Row.
"You look into an older woman's face and there's a whole lifetime of life, and that's what we're depicting.
"It's very rare that we're ever asked to play actresses, we're asked to play people in life and therefore the more life you live the richer, hopefully, you can be."
Thompson told presenter John Wilson that women have to fight for roles as they get older: "Not only fighting for the roles, but fighting for female rights in general."
"For women a lot of the time, the only power that they do have in their roles on screen is the sexual power," Thompson added.
"So when that sexuality becomes older, and therefore a great deal more threatening, the roles dry up - because women don't have access to the kinds of power that create the kind of story that people are writing about.
"The roles of women in life - in political life, business life, everything - are absolutely mirrored by what we see in cinema."
Thompson was last seen on screen as Mary Poppins creator PL Travers in Saving Mr Banks and recently filmed Jason Reitman's Men, Women and Children.
She said it was important to "challenge yourself" by taking on different kinds of roles.
"I think it was after Sense and Sensibility my Mum said, 'So what are you going to do next, are you going to play another good woman in a frock?'. And I thought, 'Bloody hell, thanks Mum.' But I know what she meant."
Thompson continued: "If you challenge yourself to do something different, I think the more experience you have the more interesting it is to meet that challenge, and sometimes really surprising things come out of it."
Emma Thompson and Celia Imrie appear on 10 April edition of Front Row, at 19:00 BST.