Impac Literary Prize: Authors vie for lucrative award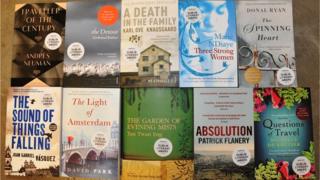 The shortlist for the world's most lucrative book award, the Impac Dublin Literary Prize, pits debut Irish author Donal Ryan against international stars such as Colombian Juan Gabriel Vasquez.
Ryan wrote best-selling novel The Spinning Heart in his spare time, while working for the government in Limerick.
It later won Irish Book of the Year.
Norway's Karl Ove Knausgaard and former Belfast school teacher David Park and are also nominated for the prize, worth 100,000 euros (£82,500).
The 10 shortlisted books were nominated by libraries in 39 countries - including Australia, Germany, Ireland, Mexico and South Africa.
Several have already been recognised by other literary prizes: Tan Twan Eng made the Man Booker shortlist with The Garden of Evening Mists, while Marie NDiaye's novel Three Strong Women, which was recently translated into English, won France's Prix Goncourt in 2009.
Irish author Kevin Barry won the Impac prize last year for his debut novel, City of Bohane.
The winner of the 2014 international prize - run by Dublin City Libraries - will be announced by on 12 June.
Here is the shortlist in full:
The Detour by Gerbrand Bakker (Dutch), translated by David Colmer
Questions of Travel by Michelle De Kretser (Sri Lankan / Australian)
Absolution by Patrick Flanery (American)
A Death in the Family by Karl Ove Knausgaard (Norwegian), translated by Don Bartlett
Three Strong Women by Marie NDiaye (French), translated by John Fletcher
Traveller of the Century by Andrés Neuman (Argentinian), translated by Nick Caistor and Lorenza Garcia
The Light of Amsterdam by David Park (Northern Irish)
The Spinning Heart by Donal Ryan (Irish)
The Garden of Evening Mists by Tan Twan Eng (Malaysian)
The Sound of Things Falling by Juan Gabriel Vásquez (Colombian), translated by Anne McLean