Handbagged puts Queen and Margaret Thatcher back on stage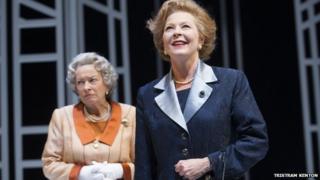 As the Olivier Awards-nominated Handbagged opens in the West End and Red Velvet storms New York, is this a golden period for London's Tricycle Theatre?
Backstage at the Vaudeville Theatre on the Strand, Indhu Rubasingham is still catching her breath after a whirlwind week.
The artistic director of the Tricycle Theatre is just back from New York, where her production of Red Velvet has opened to glowing reviews.
Now she is putting the finishing touches to her production of Moira Buffini's new play Handbagged, which sold out at the Tricycle last year and is now making a leap into the West End.
The play, which imagines the meetings between the Queen and Margaret Thatcher, is also a nominee at this Sunday's Olivier Awards, where it is up for outstanding achievement in affiliate theatre. Red Velvet was nominated in the same category last year.
"It's a great time for the Tricycle," says Rubasingham, who took over as artistic director in May 2012 after Nicolas Kent's 28 years at the helm.
"If you personally judge yourself by awards then you're going to nowhere. Where these things help is on marketing, audiences, fundraising and profile."
The play's transition from the 200-seat theatre in Kilburn to the 700-seater Vaudeville has, she says, involved "quite a bit of editing and tightening".
Handbagged started life as a 20-minute piece in 2010. Plans to expand it were almost abandoned when it was announced that Peter Morgan's The Audience would open in the West End in 2013.
That play, starring Helen Mirren as the Queen, imagined the private meetings between the monarch and her prime ministers over her 60-year reign.
"In the end we thought it didn't matter," explains Rubasingham. "They're actually very different stories."
As it turned out, Margaret Thatcher died three days before Buffini was due to start work on the full-length play. "People thought we were really quick off the mark but it was always going to happen."
Handbagged's big theatrical idea is to double up the main roles. Hence there are younger and older versions of the Queen (played by Lucy Robinson and Marion Bailey, respectively) and Margaret Thatcher (Fenella Woolgar and Stella Gonet).
'Pure theatre'
Rubasingham says having both versions of each character on stage at the same time brought its own challenges for her as director.
"One may start a thought and the other one may finish it - it wasn't naturalism, it was pure theatre. I felt like the play was stretching me, rather than me trying to make it work."
Both she and Buffini were "Thatcher children". Rubasingham recalls growing up in Mansfield, near Nottingham, during the miners' strikes.
"When Moira was writing it we would talk a lot about our experiences. You realise how things that started at the time are the catalysts of what's happening now.
"I wasn't a Thatcher fan growing up. Now it's not that I agree with her, but I've understood her a bit more, and I really admire that someone in that time, as a woman, had that kind of conviction politics, whether or not you agree with those politics."
Rubasingham says the opening of Red Velvet in New York earlier this month was an "emotional" moment. She and playwright Lolita Chakrabarti first began talking about bringing the story to the stage eight years ago.
Starring Chakrabarti's husband Adrian Lester, Red Velvet tells the story of pioneering African-American actor Ira Aldridge, who caused a sensation in London in 1833 when he took over the role of Othello after famous actor Edmund Kean collapsed on stage.
The play was Rubasingham's first project when she took over at the Tricycle. Almost two years on, it's now creating waves across the Atlantic. "It's been a huge journey, there were times when both of us thought this was never going to happen. Very rarely do those moments crystallise into something like this."
She adds excitedly that Robert Redford had already been to see it. "How has this happened after all that time when people were shutting the doors on it?"
She thinks the script has film potential, and predicts the play will have a long life even after Lester has stepped down from the lead role.
What kind of impact does a New York run and a West End transfer - Rubasingham's first from the Tricycle - have on the Kilburn theatre's finances? "I don't know yet. The show in New York is not going to bring money to the Tricycle but it hasn't cost us money - but it raises the profile.
"With Handbagged it's early days. If it sells and we more than break even, then money will come to the Tricycle."
Rubasingham sees investment as a key issue in theatre. "The theatre community has got to communicate to society why it's important. The work we've done with Handbagged and Red Velvet has only come from Arts Council investment. I can take those risks.
"In New York people say they don't see work like that because there isn't that investment.
"As a country we've got to put that investment in the arts because its our moral compass, it's our social conscience. It's our spiritual well-being as a society.
"It's not just about luvvies having fun."
Handbagged is at the Vaudeville Theatre until 2 August. The Olivier Awards are at the Royal Opera House on Sunday.