Patsy Palmer to leave EastEnders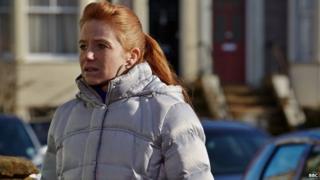 Actress Patsy Palmer is to leave EastEnders after 21 years of playing quick-tempered market stall holder Bianca Butcher.
The 41-year-old joined the soap in 1993, as Bianca Jackson. The BBC said her character would not be killed off.
A spokesman for the actress said she was "really sad to be leaving the show as she loves playing Bianca... but she knows it's the right decision at this time in her life."
Palmer leaves the show in the autumn.
"We are so sad that Patsy has decided to leave us, but completely understand that it's the right time for her," said the show's executive producer, Dominic Treadwell-Collins.
"There's still a lot more to come from her on screen this year - and the door will be left wide open for her return.
"We won't be getting rid of Bianca's Puffa jacket just yet."
Palmer has left the show once before, in 1999, when her character went to art college in Manchester.
She returned for a one-off episode in 2002, before resuming the role full time in 2008.
Bianca, like many of Albert Square's residents, has had her fair share of problems. Her storylines have included abortion, infidelity, debt and a spell in prison.
But she is perhaps best-known for her relationship with Ricky Butcher, played by Sid Owen.
The couple's marriage in 1997 gave the BBC One show one of its biggest-ever audiences - in excess of 22 million - although the ceremony was nearly cancelled after a riotous stag night.
The couple became known for their comical arguments, often preceded by Bianca's exasperated "Rickaaaay!"
They divorced in 1999 but remarried when EastEnders turned 25 in 2010.
Outside the show Palmer, the mother of four, has taken part in charity editions of Strictly Come Dancing and The Apprentice.
She also runs a beauty company, Palmer Cutler, which sells self-tanning products.
According to several newspapers, including the Daily Mirror and the Daily Mail, Palmer plans to leave the UK this summer to pursue a career in Hollywood.