Danny Dyer and PM David Cameron unite on charity album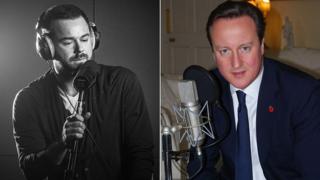 EastEnders star Danny Dyer and PM David Cameron have lent their voices to the official World War One centenary album of the spoken word and music.
Mr Cameron has recorded The Soldier by Rupert Brooke while Dyer has read In Memoriam by Ewart Alan Mackintosh.
Wilfred Owen's Dulce et Decorum Est has been performed by Cold Feet actor John Thomson on the record.
Some descendants of recipients of World War One Victoria Crosses have recorded John McCrae's In Flanders Fields.
It will be released a single, with 40 pence from each sale being donated jointly to the Royal British Legion and the Victoria Cross Trust.
Game of Thrones actor Sean Bean, comedian Sarah Millican and broadcasters James Naughtie and Stephen Fry have also recorded tracks.
The Central Band of The Royal British Legion have re-recorded classic tracks of the time such as It's a long way to Tipperary, Keep the Home Fires Burning, which has been sung by soprano Laura Wright, and Pack up your Troubles.
The album is a "truly unique and painstaking collaboration" according to Royal British Legion Director of Fundraising Charles Byrne.
"Poets such as John McCrae and Wilfred Owen express this tragedy in a manner that only those who have seen it first-hand can describe. This album will help keep these moments alive for future generations," he added.
Decca records is to make a donation of £10,000 to the Royal British Legion plus a further donation to the Victoria Cross Trust.