Game of Thrones return is ratings triumph for HBO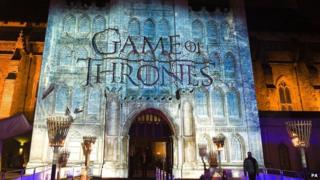 The season four premiere of Game of Thrones has given US network HBO its top ratings since The Sopranos finale in 2007, with an average of 6.6 million tuning in for the hit fantasy drama.
The mafia drama drew 11.9 million viewers for its final episode, according to the cable channel.
Game of Thrones secured its biggest ratings ever in both the US and the UK.
In the UK, 1.2 million tuned into Sky Atlantic across two broadcasts, one a 02:00 BST simulcast with the US.
More than 538,000 UK fans watched the early morning airing, while another 664,000 saw the series return in its Monday night slot of 21:00 BST.
Sky Atlantic said it expected those numbers to rise when consolidated figures - including catch-up and on demand viewings - were released in seven days time.
Game of Thrones has proved the biggest show on Sky Atlantic, which also broadcasts HBO dramas True Detective and Boardwalk Empire and, later this month, the final series of Mad Men.
It is adapted from author George RR Martin's A Song of Ice and Fire novels and Martin is an executive producer on the show.
The season four premiere saw the Stark family coming to terms with the slaughter of many of their relatives in the Red Wedding episode last season.
Audiences witnessed Arya Stark, played by 16-year-old Maisie Williams, take a dark turn as she sought revenge for her family.
The previous all-time high for a US broadcast of the show was 5.5 million, with the season three premiere watched by 4.4 million.
HBO said a total of 8.2 million people watched the season four premiere, including the figures for two replays later on Sunday, but that number was also expected to rise, with an average total of 14.4 million tuning in to previous episodes.
Earlier this week, the network's online viewing app, HBO Go, crashed under heavy demand for the season four premiere, forcing the service to apologise to customers for the technical difficulties.
The service also crashed last month, due to demand for the finale of True Detective.