Funeral of Clarissa Dickson Wright takes place in Edinburgh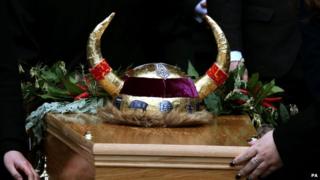 The funeral of celebrated television cook Clarissa Dickson Wright has taken place in Edinburgh.
The 66-year-old, who found fame as one of the Two Fat Ladies, died in the city on 15 March.
Friends and relatives attended a service at the city's St Mary's Metropolitan Cathedral, followed by a private cremation.
As a food writer and broadcaster, Dickson Wright was known for her frank manner and strong opinions.
'Mass of contradictions'
Her love of food was highlighted at the funeral with an unusual wreath including red chillies and artichokes on top of her coffin.
Born in London, she trained as a barrister and was the youngest woman ever to be called to the Bar at the time.
Alcohol addiction put an end to her legal career but in the mid 1990s she was spotted by a TV producer while working in an Edinburgh cookery shop.
Teamed with the late Jennifer Paterson, the duo travelled around in a motorbike and sidecar, creating feasts as well as a hit BBC 2 series.
Delivering a eulogy, the Very Rev Monsignor Michael Regan said: "Through her education and upbringing she proved herself to be a brilliant woman and her career seemed destined for greatness but she had the self-destruct mechanism of so many gifted people and her downward spiral is well known.
"But from that downward spiral where she found herself homeless and penniless she learned a sympathy with others that stayed with her and through her association with Alcoholics Anonymous she found and gave strength to others."
She was a "mass of contradictions", he added.
A piper played outside the city centre church as her coffin was carried at the front of grieving family and friends.
Dickson Wright also appeared in other shows, including Clarissa and the Countryman and Clarissa and the King's Cookbook, and served as rector of Aberdeen University.
Producer Patricia Llewellyn said following Dickson Wright's death: "She was a force of nature and a true character, someone who knew how to tell a great story and had a fabulous sense of humour."