US comedian John Pinette found dead in Pittsburgh hotel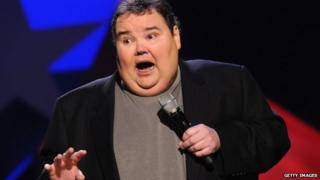 American comedian and actor John Pinette has been found dead in a hotel room in Pittsburgh in Pennsylvania.
Aged 50, he died of natural causes, the local medical examiner's office told Associated Press.
A veteran of the international comedy circuit, he was also famous for his role in the final episode of the sitcom Seinfeld.
He had just started a tour across venues in the US and Canada, which was due to finish in June.
Pinette died at the Sheraton Station Square Hotel in Pittsburgh on Saturday afternoon, US media report.
A spokesperson for the medical examiner's office said the entertainer had been suffering from liver and heart disease. His manager told the Hollywood Reporter he had suffered a pulmonary embolism.
The award-winning comedian was born in Boston in the state of Massachusetts in 1964 and was given his break when he was asked to tour with Frank Sinatra.
In his Seinfeld appearance, Pinette played the role of a carjacking victim mocked by the stars of the show, who in turn end up before a judge for failing to help him.
He was known for making self-deprecating jokes about his weight and his agent, Nick Nuciforo, told US media he had been working on a stand-up project when he died.
"He should be celebrated for the amazing comedian he was," Nuciforo said.
Pienette's film credits included an appearance alongside John Travolta in The Punisher in 2004. He also performed on Broadway and was a regular guest on NBC's long-running The Tonight Show.