Welsh director Gareth Evans returns with Indonesian action sequel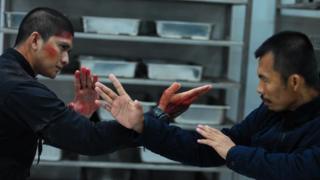 Welsh director Gareth Evans reveals why he chose to make a follow-up to The Raid, the low-budget martial arts thriller that became an international hit in 2011.
Indonesian film The Raid cost around $1 million (£596,000) to make but made 15 times that sum at the worldwide box office in 2011.
Described by some film critics as "the best action film of all time", its visceral martial arts scenes and large body count made it a cult classic with fans.
Now The Raid 2 arrives in UK cinemas, four months on from its world premiere at the Sundance Film Festival in January. Its maker is 34-year-old Gareth Evans, originally from Hirwaun in south Wales, who now lives in Indonesia.
According to Evans, the first film's plot was "pretty simple, because we had no budget. A policeman, Rama, has to fight his way to the top of a gang-controlled building without dying himself."
In contrast, The Raid 2 "has far more of a story [that] expands the criminal world of the first film". "If the audience are willing to follow us into it," Evans continues, "it will have a very different feel to the first one."
The Raid became the most successful Indonesian film release of all time, prompting international interest in Pencak Silat, the local martial art it featured, and making a star of Iko Uwais, the stuntman-actor who plays Rama.
Evans and Uwais had worked together before on Merentau, a cult martial arts hit in Indonesia. The international reaction to The Raid, though, took both by surprise.
"I never expected it," admits Evans. "And at first it felt like there was a certain amount of novelty publicity around it. A Welshman has made this Indonesian martial arts movie, there's a thing!
"What it has done is given both myself and Iko a certain amount of career security. I certainly had offers to make other films after it came out, but nothing compared to the prospect of making the sequel. I was passionately committed to it."
Now signed to the prestigious William Morris talent agency in the US, Evans is also serving as a producer on a Hollywood remake of The Raid.
The film will be made by The Expendables 3 director Patrick Hughes, with reports suggesting Australian actor Chris Hemsworth or his brother Liam will take the lead role.
"I know that it's inevitable that a great foreign language movie will be made and Hollywood will want to remake it," sighs Evans.
"Just like The Ring or Let the Right One In, fans will look at it and say 'why on earth is it getting remade? The only thing that's any different is there are no subtitles.'
"But the way I see it is that some kid who listens to Justin Bieber will probably go and see the Hollywood version of The Raid, and then he might discover the foreign originals that I've made.
"Once he's seen these films, I doubt he'll like Justin Bieber any more. In that way, I'll have done some good in the world."
The Raid 2 picks up a couple of hours from where the first film ended, with Rama - having just disposed of hundreds of criminals - being asked to go undercover in prison.
Those who loved the first story for its non-stop martial arts sequences may be disappointed that the new film, at two-and-a-half hours and with five times the budget, has more dialogue and conversation pieces in the criminal underworld where it is set.
"I don't think I've made a big, bloated film with the budget I've had," Evans counters. "In fact, every penny is on screen again.
"I hope fans will like it because this is the film I originally wrote, when I wanted to make the first Raid, but we simply didn't have the money.
"I was a frustrated director, simply desperate to make a film, and so I rewrote it to be set around one building, which was considerably cheaper than multiple locations.
"This still has all the blood and guts of the first; I think there might be more actually. I hope it's still a visceral spectacle.
"The Raid 2 is very violent. I appreciate some people won't like that, but you have to remember we are following a film tradition of Indonesian martial arts films. I want to have made something edgy."
Uwais and Evans are now local heroes in Indonesia, where they are credited for bringing back a martial art movie tradition that, according to the director, "died off in the 1970s".
Despite this, the Welshman reveals his next two directing jobs will be in the UK and the US.
"Everything is working really, really well for me right now," he says. "Just being able to make a film is a dream come true."
Raid fans need not fret, though. Evans is open that the series was designed as a trilogy and has pledged will return to direct the final instalment.
"I've already planned it out - it's definitely going to happen," he insists. "There's going to be no rest for the characters at the end of this film."
The Raid 2 is released in the UK and Ireland on 11 April.