Big Bang Theory shoots Star Wars episode with Luscasfilm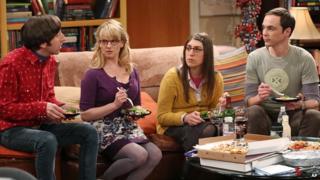 US sitcom Big Bang Theory has teamed up with Lucasfilm to create a special, Star Wars-themed episode.
The Proton Transmogrification will follow the series' socially-challenged cast as they celebrate Star Wars Day.
It will feature scenes set in Dagobah, a harsh, swampy planet which served as the location for Yoda's exile in The Empire Strikes Back.
Lucasfilm has helped recreate the location, as well as providing Star Wars props, including a light saber.
The episode will also star Emmy-winning comedian Bob Newhart, in his recurring role as Professor Proton - an embittered TV star from the 1960s.
The character, usually a reluctant mentor to chief geek Sheldon Cooper (Jim Parsons), will appear as a Jedi from the Star Wars universe in the one-off episode.
It will air in the US on 1 May to coincide with Star Wars Day on 4 May - as in "May the fourth be with you".
"We were approached by the Lucasfilm people to do something to celebrate Star Wars Day, which was nice," the show's co-creator Chuck Lorre told The Hollywood Reporter.
Show runner Steve Molaro added: "We knew that Bob was coming back and Lucasfilm called us, and we realized that this might be an opportunity to mix both stories and come up with something special."
The series often incorporates science-fiction references and in-jokes, and Star Wars actors Carrie Fisher and James Earl Jones have both filmed cameos.
The show has also poked fun at the endless tinkering with the original Star Wars trilogy. In one episode, the cast are intending to watch the series on Blu-Ray, when one of them jokes: "If we don't start soon, George Lucas is going to change it again".
In the UK, the Star Wars Day episode will be seen on E4 - which is currently showing Big Bang Theory about 12 weeks behind the US transmission dates.