Gil Scott-Heron: Unreleased recordings to get limited release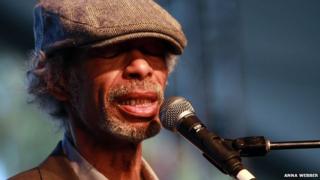 An album of unreleased recordings by Gil Scott-Heron is to be issued on vinyl for Record Store Day.
Just 3,000 copies of Nothing New will be available on 19 April, as part of a drive to encourage fans to visit their local independent record shops.
The recordings date back to his final album, I'm New Here, released in 2010, a year before his death aged 62.
They feature the poet and musician playing stripped-down piano versions of some of his greatest songs.
Richard Russell, the owner of record label XL, said he first approached Scott-Heron about re-interpreting his back catalogue in 2005, but their sessions soon produced new music, which became I'm New Here
Six months after Scott-Heron's death in 2011, he listened back to the tapes and "found that they were in themselves remarkable, completely different from the originals, and full of magic in their simplicity".
"I realised we in fact had made the album we originally set out to," noted Russell in the sleeve notes accompanying the album.
"Gil had carefully curated the selection, so the album serves as an excellent introduction to his previous output."
The record also contains excerpts of studio conversations that "give a sense of Gil's profound and profane nature," Russell added.
Scott-Heron's material spanned soul, jazz, blues and the spoken word. His 1970s work heavily influenced the US hip-hop and rap scenes, with his most famous song being the politically-charged The Revolution Will Not Be Televised.
He died in May 2011, of undisclosed causes, at the age of 62.
His posthumous album is one of hundreds of special edition releases for Record Store Day.
Among them are a new singles from Dolly Parton, Paul Weller and Blur frontman Damon Albarn, as well as a glow-in-the-dark picture disc of the Ghostbusters theme.
There are limited numbers of each - and the stock will be distributed to record shops at random, meaning exclusives can be hard to track down.