Waterloo Road to close doors in 2015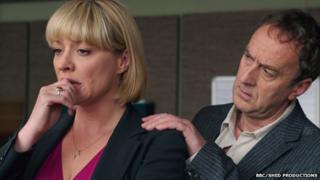 The long-running school TV drama Waterloo Road is to end in 2015, the BBC has announced.
The broadcaster said it was "incredibly proud" of the programme, but that it had "reached the end of its lifecycle".
It said Waterloo Road would not return after its 10th series. A new drama is being planned for the same slot.
The show, first broadcast in 2006, is now filmed in Greenock in Scotland, after moving from Rochdale in 2011.
Made by Shed Productions, Waterloo Road is set in a challenging comprehensive school, with a cast that includes Laurie Brett, Zoe Lucker and Angus Deayton.
"We are incredibly proud of Waterloo Road, and would like to thank Shed Productions and all the cast and teams involved across the ten series," said Charlotte Moore, BBC One controller and Ben Stephenson, controller of BBC Drama.
"However, we believe it has reached the end of its lifecycle and won't be returning after series 10 finishes in 2015.
"On BBC One it's important to make room for new drama and we are committed to commissioning new drama series for 8pm. There are some really exciting ideas currently in development but nothing to confirm yet."
There are 20 episodes of Waterloo Road still to run on BBC One. Ten will air in the autumn, and a further 10 - yet to be filmed - will go out in 2015.
Donalda MacKinnon, head of programmes, BBC Scotland, said: "When we originally committed to making 50 hours of Waterloo Road in Greenock, we did so for a number of reasons which included boosting drama production skills here in Scotland, as well as improving training and development opportunities for the future.
"We were very pleased to significantly increase our commitment to 70 hours recently and that was partly thanks to the efforts of the Greenock community who helped make the move happen so smoothly and who made cast and crew so welcome.
"It's always sad when any long-running show comes to an end and I know the Waterloo Road team will miss Greenock - as will fans of the show.
"Our firm aim now, however, is to use that to continue growing the TV and the wider creative sector here in Scotland utilising the increased skill base arising from Waterloo Road to build up future home-grown culturally representative output."