Captain America sequel outpaces Muppets Most Wanted at UK box office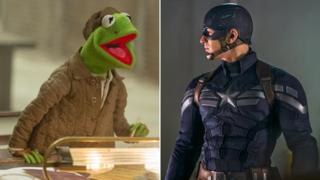 Returning superhero Captain America came ahead of the Muppets in a battle of the sequels that dominated this week's UK and Ireland box office chart.
Comic book blockbuster Captain America: The Winter Soldier took pole position with a £6.03 million haul that included takings from two days of previews.
That sum towered over the £2.21 million that comedy Muppets Most Wanted recorded after five days of previews and three days on general release.
Both titles were distributed by Disney.
The Winter Soldier marked the latest big-screen outing for Marvel's patriotic crime-fighter, following his debut in 2011's Captain America: The First Avenger and his subsequent appearance in 2012's Avengers Assemble.
Chris Evans's character also made a fleeting appearance in Thor: The Dark World, another Marvel-Disney collaboration that topped the UK and Ireland box office chart last November.
His newest outing was popular enough to consign Muppets Most Wanted, in which Ricky Gervais appears alongside Jim Henson's beloved fur and felt creations, to a distant second place.
The caper fell slightly short of the £2.65m earned by the team's previous movie during its opening weekend in 2012. It went on to make £16.25m in the UK alone.
But Muppets Most Wanted's takings still dwarfed those of the remaining titles in this week's Top 10, only one of which came close to recording more than £1 million in ticket sales.
The Grand Budapest Hotel came closest with a fourth-weekend tally of £870,423, a sum that pushed its total earnings in the UK and Ireland tantalisingly close to the £8m mark.
Wes Anderson's quirky comedy was ranked the top film in UK cinemas last weekend, though Muppets Most Wanted would have superceded it, had its earnings from previews been taken into consideration.
Liam Neeson's airborne thriller Non-Stop claimed fourth place, while action movie Need for Speed charted at number five.
3D action fantasy The Legend of Hercules was the weekend's biggest casualty, limping into a lowly ninth place with a decidedly unheroic first weekend tally of £189,881.