Noah storms to top of US box office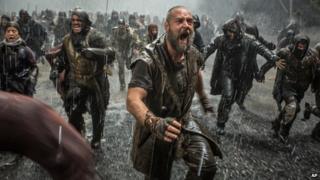 Epic biblical film Noah, starring Russell Crowe, has opened at the top of the US box office, taking $44m (£26.4m) over the weekend.
The tale of Noah's ark, directed by Black Swan's Darren Aronofsky, also stars Jennifer Connolly and Emma Watson.
It follows in the wake of other recent religious films, including God's Not Dead and Son of God.
Other faith-based movies out this year include Exodus and Heaven is Real.
"I think these biblical-themed movies are like the next frontier in Hollywood," said Paul Dergarabedian, senior media analyst for box office tracker Rentrak.
"Hollywood hadn't cracked the code on a biblical movie that would have mainstream appeal. Now, I think they've figured it out," he added.
Second on the box office chart was teen science fiction thriller, Divergent, starring Shailene Woodley and Kate Winslet, which took $26.6m (£15.9m) in its second week of release.
Muppets Most Wanted, also in its second week, took third spot with $11.4m (£6.8m).
Animation Mr Peabody and Sherman and God's Not Dead - about a Christian college student whose faith is challenged by his atheist philosophy professor - rounded out the top five.
The second-highest new entry was Arnold Schwarzenegger vehicle Sabotage, which could only manage takings of $5.3m (£3.1m).
Friday sees the release of Captain America: The Winter Soldier in the US and Canada.
The film more than doubled Noah's takings at the international box office this weekend - Captain America took $75.2m (£45.2m), while Noah picked up $33.6m (£20.2m).