L'Wren Scott award to honour new designers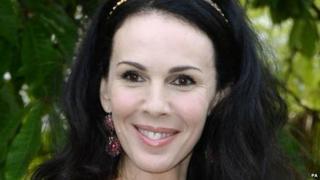 L'Wren Scott, the late fashion designer and girlfriend of Sir Mick Jagger, has had an award honouring emerging fashion designers named after her.
The L'Wren Scott Amber Award was created by The Art of Elysium, a charity which uses the arts to help children with serious medical issues.
Scott, who killed herself two weeks ago, left her estate to Sir Mick, a will filed in New York has revealed.
She omitted her two siblings in the will, which was signed in May 2013.
Scott, 49, bequeathed her $9m (£5.4m) estate to the musician, including all her belongings and the New York apartment in which she was found dead on 17 March.
"I give the rest and residue of my estate to Michael Philip Jagger," she wrote in her will.
"Except for otherwise provided in this will, I have intentionally omitted to provide herein for any of my heirs at the date of my death."
Scott had two siblings, brother Randall Bambrough - a director of her business - and sister Jan Shane, from whom she was understood to be estranged.
Financial status
At the time of her death, Scott's company, LS Fashion Limited, was reported to be facing mounting debt.
According to accounts lodged with Companies House in Britain, her London-based fashion company operated at a $5.9m (£3.5m) loss in 2012.
But her New York representatives, PR Consulting, described the reports as "misleading and inaccurate".
Probate records do not state whether she owed money to creditors, claiming the "liabilities of this estate are unknown at this time".
Scott was cremated at a private ceremony attended by some 60 guests in Los Angeles earlier this week.
Sir Mick, 70, was joined at the funeral by his four daughters. The Rolling Stones frontman had been in a relationship with Scott for 13 years.