The Review Show on BBC Four axed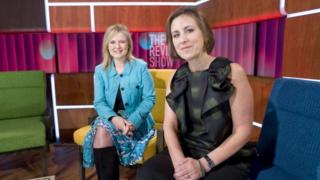 The BBC's long-running arts programme The Review Show is being axed, with its last edition due to air this weekend.
The panel show, currently presented by Martha Kearney and Kirsty Wark, has been on air for more than 20 years in different formats but was moved from BBC Two to BBC Four last year.
Earlier this week, director general Tony Hall pledged to put culture "at the very heart" of the BBC.
A spokesperson confirmed this Sunday's programme will be its last.
"The series has made a valuable contribution over many years but as outlined this week, the BBC has ambitious plans for arts on TV, radio and online," said a statement.
"Review will continue to have a place across the BBC alongside more topical arts coverage."
The arts programme lost about 80% of its audience following the controversial move to BBC Four in April last year, with just 76,000 viewers tuning in for its first airing on the channel.
It was cut from a weekly Friday night half-hour slot on BBC Two, to a monthly hour-long Sunday evening slot.
News of the show's demise was originally revealed in a low-key announcement on the show's Twitter feed, prompting confusion from fans.
Nathan Gower tweeted the show directly, asking: "Is arts reviewing disappearing from our screens entirely? Disgraceful if so." He added "Very sorry to see you go."
Film critic Scott Jordan Harris tweeted: "The cancellation of The Review Show is a powerful blow against information, education and entertainment - the BBC's three reasons for being."
School librarian Aine Garvey said she was missing the show already, writing: "My heart is broken".
Writer and broadcaster Chuck Thomas wrote: "Cancelling The Review Show immediately after saying you're "strongly committed to arts". Sounds like a storyline from #W1A."
The programme has featured regular guests including author Lionel Shriver, journalist Paul Morley and broadcaster and journalist Sarfraz Manzoor, discussing cultural highlights and new releases.
Sunday's final programme will review Richard Ayoade's film The Double, BBC1 drama The Crimson Field and new West End musicals I Can't Sing! and Urinetown.
The show started life as The Late Review in 1994 on BBC Two, before teaming up with the channel's flagship news programme to become The Newsnight Review in 2001.
Filming of the programme moved to Glasgow in 2010, when it was relaunched as The Review Show.
Last year's move to BBC Four formed part of the £700m cost-cutting measures required by Delivering Quality First (DQF).