Peter Allen: BBC 5 live should speak for the 'have-nots'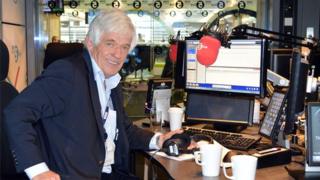 It is 20 years since the BBC launched a new rolling news-and-sport radio station, and 5 live was born.
Peter Allen is one of only a handful of presenters to have been with the station since day one - first co-presenting Breakfast and then the afternoon Drive programme.
Here, he assesses the station's impact, looks back at some big stories and explains why he thinks the station should become the voice of "the discontented and the dispossessed".
What do you remember about the first day on air?
I felt shattered. Although I'd done a lot of broadcasting, I've been in journalism now for 50 years and lot of the years were in television and radio, but I hadn't presented a live show. And I found it quite hard work initially.
But radio is only conversation, ideally, between you and a couple of people in the studio and the listeners.
How has the station changed?
It's the technology that's changed. I love tweets and texts. That is immediate access to what people are thinking. If you say something people don't like, bang, you've got it there. You don't have to wait for a letter to be written to the editor.
Also if you want information, you can get it immediately. I like to watch what people are saying all the time as I'm doing a programme.
Who has been your favourite co-presenter?
It has to be Jane Garvey. She was the first one. On air, we were compared to a married couple. We nagged each other and she was certainly acerbic, and I confess I love it.
Which story has elicited the greatest reaction?
Of anything I've ever done on radio, it was without doubt the death of Diana, Princess of Wales. The public fascination was total.
I was called in because we'd heard that Dodi Fayed had been involved in a car accident. I came in to do a story for 5 live in the early hours of the morning - 02:00 or 03:00 - and then by 04:00 it became clear that she'd been involved and was seriously injured.
A few moments before 05:00, they said we're going to be doing a combined programme on Radios 1, 2, 3, 4 and 5. James Naughtie came in from Radio 4 and we did the programme [together]. When I went into the studio I still wasn't sure that the poor lady had died. We got the confirmation and rolled with that story for four hours. It was quite a dramatic few hours.
Which story has had the biggest impact on you?
It was an interview with a gentleman who was in the World Trade Center when the planes struck [on 11 September 2001]. He was in a lift and the first he knew was that the lift just began to fall. He was falling, he thought, to his death.
Then the lift slowed and it got so hot that his clothes began to smoulder. Then it stopped. He didn't know what was happening. The doors opened and he said he was hit in the face with a fireball. He staggered out of that lift.
This [interview] was years later. Osama Bin Laden had just been killed and I said, "Well at least the man responsible is dead." And he said, "No more killing, Peter. No more killing."
I've interviewed them all - prime ministers and sports stars - but that guy struck me as a heroic figure because of the humanity he'd managed to express.
Have you had any hairy moments?
I was broadcasting from the floods in Datchet [Berkshire, in February] and thought it would be nice to do the six o'clock openers from beside the flood water. So I went out with my wisycom [transmitter] hanging over my shoulder. I started to say "Good evening" and it broke down.
So I ran towards the radio car with water filling my wellington boots. I had 10 seconds to get there. The engineer came running out to take one set of headphones off and put another set on and, in so doing, dislodged my glasses.
I fell into the car and could see a screen but couldn't see what was on it. I knew the microphone was there but couldn't hear anything in my cans and so you just heard me say, "This is Peter Allen and… I think someone else should take over."
How do you think the station is perceived?
We've always had this mixed perception because some people still see us as a sport station, whereas 70% of our output is news.
I had a taxi driver in Manchester who said he liked talk radio. I said, "Well, I work for 5 live." And he said, "But that's football isn't it?" Twenty years and he didn't know we weren't just football.
Does it need to change its image?
It seriously needs to make sure people know what it is and why it is. You've got to take advantage of the fact we're in Salford and make it a distinctly non-metropolitan station.
In the future there's a voice, perhaps, for 5 live as the voice of the "have-nots", rather than the "haves". The voice of the discontented and the dispossessed.
Being outside London and being away from those main centres of power and influence makes you more aware of that big world out there which is finding life rough at the moment.
Has the move to Salford in 2011 changed the station?
Not particularly. It's made life a bit more difficult getting presenters and journalists to work here. If you want national journalists with experience, it's not easy.
On the other hand, it is essential that we are here because if we want the BBC to survive, it's got to represent the whole country, not just a bit of it. At the moment, it really represents the South East. We have to not only represent the whole of the country but also come from all parts of the country.
A special anniversary programme titled 5 live at 20 will be broadcast at 12:00 GMT on Friday 28 March, and will then be available online. Peter Allen will be reunited with Jane Garvey on 5 live Drive on Friday from 16:00-19:00. More clips and pictures of 5 live's history can be found on the 5 live website.
Interview by BBC News entertainment reporter Ian Youngs.