Lights to go out to commemorate World War One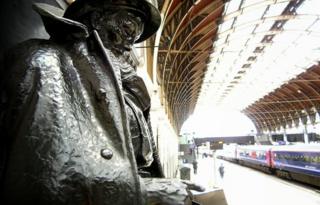 A mass public 'Lights Out' is one of a series of arts events planned to mark the centenary of World War One.
The official cultural programme, entitled 14-18 NOW, has been announced by Culture Secretary Maria Miller.
The first leg begins in June and will culminate on 4 August, the anniversary of the declaration of war.
The date will be marked with a Late Night Prom, followed by Lights Out, when people will be invited to switch theirs off in favour of a single light.
The large-scale event, 100 years after Britain declared war on Germany on 4 August 1914, is aiming to echo Sir Edward Grey's famous epitaph "the lamps are going out all over Europe".
Events will take place across the UK involving a host of leading arts figures including authors Malorie Blackman and Sebastian Faulks, directors Neil Bartlett and Katie Mitchell, actor Stephen Fry and cartoonist Ralph Steadman.
Other highlights include a BalletBoyz production Young Me, drawing inspiration from images of the war, and visual arts project Dazzle Ships - in which contemporary artists such as Carlos Cruz-Diez will paint the exteriors of war ships in Liverpool and London, echoing the "dazzle camouflage" used in World War One.
Artists will also create works in response to World War One on the salt-marshes of Orford Ness, in Glasgow's Merchant City and on the site of the trials of conscientious objectors in London's Battersea.
The 2014 commissions announced on Thursday are to mark the first of three "key moments" - with two more series of events set to mark the start of the Battle of the Somme in July 2016 and the centenary of the Armistice in November 2018.
Everyone in the UK is invited to take part in Letter to an Unknown Soldier, billed as "a new kind of war memorial" made entirely from words by Kate Pullinger and Neil Bartlett.
It is inspired by Charles Jagger's statue of a soldier reading a letter in Paddington Station, and asks the public and 50 leading writers to write their version of that letter.
Street theatre company Royal de Luxe will be performing stories on the streets of Liverpool, there will be a tour from guitarist and songwriter Richard Thompson, photography exhibitions and performances in care homes.
The line-up also features several partnerships, including collaborations with the Womad and Aldeburgh festivals and the National Theatre Wales, with a full list of events available here on the official website.
The 14-18 NOW programme is funded by a £10m grant from the National Lottery and £5m each from Arts Council England and The Heritage Lottery Fund.