Huw Edwards' top 10 tips for being a news presenter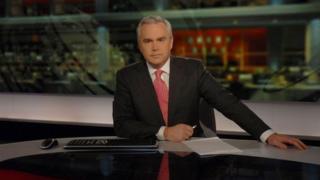 Huw Edwards is a Bafta award-winning BBC News presenter. After joining the BBC as a News Trainee in 1984 he went on to become a political correspondent, before being asked to present the Six O'clock News on BBC One in 1994.
For the last ten years he has presented the BBC's News at Ten on BBC One and he also presents the five hour on the BBC News Channel.
Here are his top 10 tips for becoming a news presenter.
1. Get some work experience
I was interested in journalism from an early age, I was editor of my school newspaper and I helped out on things like local radio. After university I applied to become a BBC News Trainee and I found myself in an environment that I found exciting and one that I really wanted to immerse myself in.
These days there's a pretty strong route into broadcast journalism and I think that any work experience will help to prove that you are serious about what you want to do. Then, in my view, you should be looking to do a good degree at a decent university and then a postgraduate diploma in broadcast journalism.
2. Become a reporter first and don't be in too much of a hurry
Presenting was never an ambition of mine, I was offered a presenting job after being a reporter and correspondent for 16 years. My strong advice to anyone who wants to present is that you must build up practical experience of reporting in the field first, before you can sit in a studio and start presenting news.
Viewers can recognise I think when somebody has a bit of experience, (at least I hope they do!) I think a presenter who doesn't have that experience is at a disadvantage. I think people are in too much of a hurry to become presenters and they should take their time.
3. Focus on the journalism
If you are a presenter, certainly on the BBC News Channel, you are a journalist who happens to be presenting, that's how I put it. There's a lot of writing and a lot of editorial activity before you get to the studio.
You need to be able to present in a clear, hopefully polished way, but the main job is still actually very tied into the journalistic nitty-gritty. If you are watching half an hour of news at ten o'clock, I suppose you could imagine that someone just pops in at half past nine and does it, but it doesn't quite work like that!
You do need to be someone who performs. I'm using that word without any sense of shame at all. You are performing, it's not entertainment but you are performing because you are having to deliver news to millions of homes. But there is a lot of journalistic work that goes on before you say, "tonight at ten," and do your headline sequence.
4. Work hard and remember that nobody is indispensable
I don't like the word workaholic. I do believe in hard work, honestly I do. I feel that it's an incredibly privileged position that I'm in and I never, ever lose sight of that. I think part of the deal is that you work hard and I think that's absolutely right.
I honestly believe that you don't get results unless you put the effort in and I think if you do put the effort in, you will at some stage be rewarded. Sometimes it's a long wait, sometimes it can be frustrating.
People who work hard and make a big effort to go the extra mile do stand out at any stage in their career. They can be in their fifties, like me, or they can be in their twenties. It's always a good thing to remind yourself that you can't take it for granted, no one is indispensable.
5. Look smart
Anyone who is a presenter, regardless of gender, who says that they're not aware of the looks issue would be lying. And I have to say, of course female colleagues are affected by it, but male colleagues are too, because the look is important. These days, on a 60 inch plasma screen in HD there's no hiding place!
How you appear is an important thing, it's the impression you make on people and it can be a good impression or it can be a less good impression. I think the most important thing, and this applies to all colleagues, is to look smart, to show respect for the audience in the way that you're turned out.
6. Don't worry about your age
The age thing in recent years has become much more sensitive. I think the truth is the BBC is probably more aware of that than any other employer. I think one of the big challenges we have in BBC News and elsewhere is to make sure that any news programme that we do has a good balance of male and female journalists appearing on air.
For me that's a much bigger issue. A programme which fails to strike that balance is really not doing its job properly and that's a much bigger issue than how I may be looking at the age of 52. As it is, I went grey at the age of thirty five so the aging process started very early for me - maybe that's a good thing.
7. Be across things but find time to relax
I don't think you do switch off totally in an environment like this because you're always concerned you're going to miss something, even if you're on holiday! I have rarely met a journalist who isn't like that. You do want to be across things and you want to know about it before someone calls to tell you. That's the trick!
So, you don't switch off but that doesn't mean you can't relax. I do relax, I spend time with the family, I read a huge amount and I like classical music, I listen to lots of music on my iPod.
8. Find a way to unwind - like boxing!
Getting home at 11.30 at night, I find it difficult to go to bed and get to sleep. I'm normally up until about half past midnight or something. It's an adrenalin thing I suppose you could say, but that comes with the territory too and any journalist who doesn't get excited by a story is probably in the wrong job I think.
I've been boxing now for four years. I box two or three times a week. That's quite a good de-stresser because it's good fitness and it's actually not really that aggressive. It is a good way to get any frustrations or stresses out and it suits me. Having done lots of running, which frankly bored me to death, I've been really happy to find a sporting activity which I quite enjoy!
9. Control your nerves
I challenge you to find any presenter who doesn't get nervous. You're not always calm. You can be nervous or annoyed or angry sometimes and the trick is to be professional enough hopefully to hide that.
No programme you do is without its challenges and some programmes can be technically or editorially very challenging. But it's not for you to inflict that on the viewer, the viewer shouldn't know anything about that.
I suppose really there's no kind of big secret to this, it's something you get better at with experience. Anything that keeps you on your toes, for me is a good thing. If I've got some butterflies that's fine.
10. Have confidence in yourself and your abilities
The main thing I'd say is to be confident in your abilities. Lots of people I meet who are at an early stage in their careers are held back to some extent, by the fact that they're not confident enough about what they can do. Even though I can see that they've got it and they should be confident.
I was very uncertain at that early stage in my career and I think that does kind of hold you back a bit. So, trust people's judgement, seek advice from people that you respect, that's very important, and have the confidence in yourself to move forward.