Fatal Attraction stage play gives ending a new twist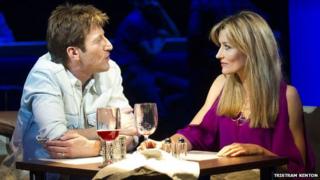 Almost 30 years after the film Fatal Attraction was a huge box office hit, a new version for the West End stage gives the story a new final twist.
The original film featured Glenn Close as a woman who becomes an obsessed stalker after a two-night stand with married lawyer Dan Gallagher, played by Michael Douglas.
Close's villainous character was shot dead in a dramatic bathroom battle by her lover's wife.
The new play, which opened at the Theatre Royal Haymarket on Tuesday, replaces that final showdown with a new scene, and shows the leading lady in a more sympathetic light.
Unsurprisingly, playwright James Dearden - who wrote the original film - has kept in the classic "bunny boiler" scene in which a child's pet rabbit meets a sticky end on a cooker.
Sir Trevor Nunn's stage production features Natascha McElhone as Alex - the "bunny boiler" - with Mark Bazeley as Dan and Sex and the City star Kristin Davis as his wife Beth.
Speaking to the BBC after the show, Davis said her West End debut had been "pretty intense".
Both she and co-star McElhone had seen the original film in the 1980s but had not wanted to watch it again during rehearsals.
"It was important to James and Trevor to develop it the way that they did. They felt very strongly about it being different," Davis said.
McElhone added: "I saw the film as a teenager but I can't really remember it. We didn't bring it into rehearsals. We started with a blank page and treated it as a play in its own right."
The famous shock ending in the 1987 film was not in Dearden's original version. A re-shoot was ordered after audience testing to make Beth kill Alex to save her family.
The film went on to become the highest grossing film of the year worldwide.
Bazeley said putting Fatal Attraction on stage added a new dimension to the story. "You've got the original ending the writer wanted, it's been updated to now and the arc of the story is one that would sit in any time period."
Critics gave it a lukewarm reception, however.
In his three-star review, The Telegraph's Charles Spencer noted: "Though some of the changes to the film may intrigue or infuriate Fatal Attraction obsessives, and the new final twist is undoubtedly ingenious, they are hardly ground-breaking and hardly justify the trouble and expense of a trip to the West End."
The Guardian's Michael Billington, awarding two stars, said the play was "an essentially hollow experience"
He concluded: "Dearden's script doesn't do enough to reimagine the movie. A film that was at least a brutally effective psychological thriller has become a modern morality-play."
While real rabbits do appear on stage, a note in the programme states: "No bunnies have been harmed during the rehearsal or production of Fatal Attraction."
Davis said of her floppy-eared co-stars: "Of course they steal the show - I'm fine with that. We keep them in that cage for a little while and sometimes they start thumping or scratching. But they've been very good."
The celebrities in the audience on opening night included Stephen Fry, Nigella Lawson and the Oscar-winning director of Gravity, Alfonso Cuaron.