Fern Britton and Tom Courtenay to feature in BBC Easter offerings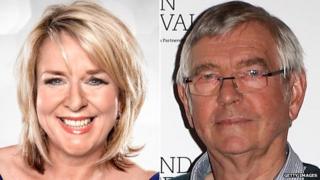 Tom Courtenay and former This Morning presenter Fern Britton are to feature in religious programmes to mark the Easter holiday, the BBC has announced.
Broadcaster and novelist Britton will host The Great North Passion on BBC One, an outdoor retelling of the Easter story on the South Tyneside coast.
Courtenay, meanwhile, will travel to Bradford to appear in a Palm Sunday edition of Songs of Praise.
US singer Beth Nielsen Chapman will also feature in the 13 April broadcast.
Good Friday - 18 April - will see Diane Louise Jordan joined, on Radio 2, by actor Stephen Tompkinson for an evening of music and poetry from Winchester Cathedral.
On Easter Sunday, meanwhile, Clare Balding will broadcast Good Morning Sunday live from Canterbury Cathedral.
Her guests on 20 April will include Justin Welby, the Archbishop of Canterbury, and the Archdeacon of Canterbury, the Venerable Sheila Watson.
Other radio offerings include a performance of Bach's St John Passion on Radio 3, conducted by Sir Simon Rattle, and a personal meditation on the Crucifixion by John Sentamu, the Archbishop of York, on Radio 4.
"Easter is the cornerstone of Christianity and our programmes across the BBC both mark and celebrate its significance," said Aaqil Ahmed, head of BBC Religion and Ethics.
In 2012, Britton hosted a contemporary retelling, in Preston, of the last hours of Jesus's life.
Bradford provided some of the settings for 1963's Billy Liar and 1983's The Dresser, two of actor Courtenay's most famous and celebrated films.
Full details of the BBC's Easter offerings can be found on the Media Centre website.