Harry Potter cover artwork to be auctioned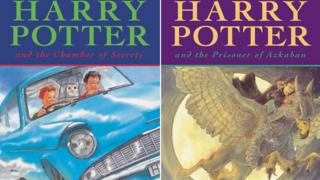 The original artwork for two of the first Harry Potter books is being sold at an auction in Los Angeles this week.
British artist Cliff Wright created ink and watercolour illustrations for the covers of 1998's Harry Potter and The Chamber of Secrets and the Prisoner of Azkaban the following year.
The Chamber of Secrets artwork has a starting price of $20,000 (£12,000).
It features Harry and Ron Weasley in the flying Ford Anglia, with the boy wizard's owl Hedwig in the back seat.
Produced for the second book in the series, it measures 22.5 inches by 19 inches.
The other sketch, for 1999's the Prisoner of Azkaban, shows Harry and friend Hermione riding on Buckbeak the mythical Hippogriff.
The starting price for bids on the 5.5 by 5 inches painting is $12,500 (£7580).
Both pieces will be auctioned by Nate D Sanders in Los Angeles on Thursday 27 March.
JK Rowling wrote seven Harry Potter novels, which became a hugely successful film franchise starring Daniel Radcliffe, Emma Watson and Rupert Grint.
The films and books have since inspired theme parks in Hertfordshire and Orlando, plus a forthcoming stage show which is currently in the development stages.