How to Poo on a Date wins odd book title prize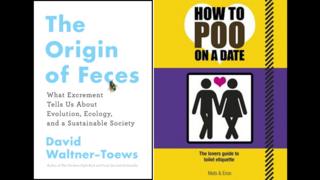 A guide to coping with toilet etiquette while on a date has been voted the year's oddest book title.
How to Poo on a Date won the annual Diagram Prize, beating other shortlisted titles including Are Trout South African? and The Origin of Feces.
The prize, founded in 1978, is run by the trade magazine The Bookseller.
The winning title, subtitled The Lovers' Guide to Toilet Etiquette, took the prize with 30% of the vote.
Prize director Horace Bent said the reading public had chosen "a manual that can help one through life's more challenging and delicate moments."
Roland Hall, of the book's publisher Prion Press, said: "We are very happy and honoured that the public thought our book worthy of first place in this much sought-after prize; we'd have been disappointed to be number two."
Other shortlisted titles were Working Class Cats: The Bodega Cats of New York City; Pie-ography: Where Pie Meets Biography; and How to Pray When You're Pissed at God.
Previous winners of the Diagram Prize include Bombproof Your Horse (2004), If You Want Closure In Your Relationship, Start With Your Legs (2007), and last year's winner, Goblinproofing One's Chicken Coop.