Why did Kate Bush never tour after 1979?
By Tim Masters
Entertainment and arts correspondent, BBC News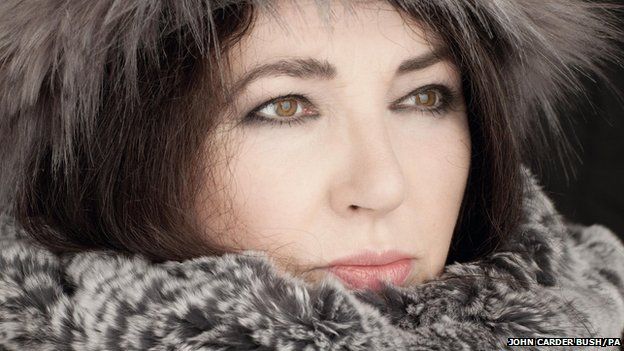 Why did Kate Bush not tour again after 1979's Tour of Life - and what can we expect from her new shows in 2014?
Kate Bush played her last full live concert on 14 May 1979.
Now, 35 years later, she has made her fans go "wow" with the surprise announcement she will play 15 shows at London's Hammersmith Apollo in August and September.
Bush, 55, will be back on stage with a show called Before The Dawn.
The choice of venue is significant. It was at the same place - then known as the Hammersmith Odeon - that the six-week Tour of Life drew to a close all those years ago.
The Tour of Life was a lavish stage show featuring songs mainly from Bush's first two studio albums, The Kick Inside and Lionheart.
It featured multiple costume changes, poetry, magicians, back projections and the pioneering use of a headset microphone that allowed Bush to add a major element of theatricality to the show.
She performed Them Heavy People dressed in a long coat and trilby hat, soared offstage in a winged leotard during Kite, and went wild with a shotgun during James and the Cold Gun.
It was, according to Melody Maker, "the most magnificent spectacle ever encountered in the world of rock".
So why did Kate Bush never tour again?
There has been speculation that Bush's dislike of flying was a factor.
Bush had also considered cancelling the Tour of Life after the death of 21-year-old lighting director Bill Duffield, in a fall on 2 April 1979 after a warm-up show at Poole in Dorset.
One of the later Hammersmith shows was dedicated to him.
In an interview with Mojo magazine in 2011, Bush admitted the tour had been tiring - even for a 20-year-old.
"It was enormously enjoyable. But physically it was absolutely exhausting," she said.
And she told Radio 4's Front Row: "I do have the odd dream where I'm on stage and I've completely forgotten what I'm meant to be performing - so they are more nightmares than dreams."
She also said her family life - with her husband and son - came first.
"At the moment my family life is incredibly important to me and it comes first. Then my work fits in around it which is quite easy to do with the recording process but something like doing shows would be incredibly disruptive and I just can't see that would be something that would work at this stage."
Awarded a CBE for her services to music last year, she remains one of UK music's most important - and influential - female artists.
Since her debut album The Kick Inside in 1978, released when she was still in her teens, Bush has released 10 studio albums.
The doctor's daughter from the south London suburb of Bexleyheath shot to fame when her debut single Wuthering Heights, a song inspired by the Emily Bronte novel, topped the charts.
The Kick Inside sold more than a million copies when it was released. The second single off the album, The Man With The Child in His Eyes, had been written when Bush was still at school.
The follow-up album Lionheart, released the same year, featured more hit songs such as Wow and Hammer Horror.
Bush had been discovered by a friend of the family, Ricky Hopper, and a demo recorded when she was only 15 made its way to Pink Floyd guitarist David Gilmour when she was 16. He suggested she be signed to EMI.
By 1985, Bush had released five albums, the last of which, Hounds of Love, opened with hit single Running Up That Hill. The album's flipside contained a seven-track concept piece entitled The Ninth Wave, which exemplified Bush's use of complex and layered studio techniques.
In the latter part of her career, fans have sometimes had a long wait between albums.
Aerial, in 2005, came 12 years after The Red Shoes, which had reached number two in the UK album chart.
Her last album was 2011's 50 Words For Snow. Bush has said the length of time it takes her to release an album can be "extremely stressful".
"It's very frustrating the albums take as long as they do," she told Front Row in 2011. "I wish there weren't such big gaps between them."
But she denied she was a perfectionist in the recording studio.
"I don't think I am," she said. "People have said this, but I don't think I really want anything to be perfect. I think it's important that things are flawed."
In her Mojo interview, she went on: "Maybe I will do some shows some day. I'd like to think so before I get too ancient."
Bush will have turned 56 when she appears on stage for the Before The Dawn shows.
The publicity shot shows her in a lifejacket floating in water, looking up at the camera as if about to be rescued.
BBC 6 Music & Radio 2's Mark Radcliffe predicts that the new stage show will have "a degree of theatre and drama to it".
"I would expect it to be dramatic with lots of great back projection and theatrical staging, but I would have thought the centrepiece would be her at the piano," he said.
"There's so much great new music since she last toured. Most of her back catalogue has never been performed live, so it will be fascinating to see which songs she chooses. I do think this is pretty risk-free, because the love for her and the fascination is so great, and I'm sure she will do it in the right way."