Downton Elizabeth McGovern's top 10 tips for acting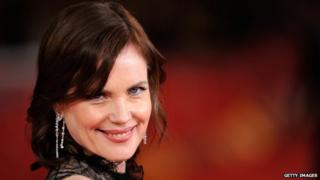 Elizabeth McGovern is best known to many as Lady Cora, the Countess of Grantham in Downton Abbey. But before playing that role, she enjoyed a long and varied career as an actress on stage, television and in films.
The American actress was first offered a film role in Ordinary People, while studying drama in New York. She received an Academy Award nomination for her role in Ragtime, starred with Brad Pitt in The Favor, and played Robert De Niro's romantic interest in Once Upon a time in America.
She has performed in a wide range of plays in theatres in London and New York and appeared in many British and American television programmes, including Law and Order and Agatha Christie's Poirot. Here are her top ten tips for acting.
1. Be comfortable and relaxed
To this day, I'm not honestly sure where the desire to be an actress came from, I think it was always very comfortable for me. There is nothing in my background that points to showbusiness whatsoever.
I was always in plays in elementary and high school and for some reason, I always felt that that was my area of peace and relaxation and it's still that way for me. I actually go to work to relax because it's where I feel very comfortable and it just feels like where I live but I don't know why.
2. Toughen up
I remember doing my first acting job and thinking I didn't know what everyone was talking about when they said this was so difficult. In many ways I did get started in an overly comforting way.
Of course subsequently, as the years go on, you start to see what people mean about how tough it is to maintain a career in showbusiness. But it's as tough as you make it.
I've been terrified in the past, but it always occurs to me that I'm not going to die, I'm not going to be physically harmed by this, I'm not going to be sick. Maybe I'll be embarrassed for a second but you've just got to make that leap.
3. Learn your craft
When I started my profession as an actress, I had just moved to New York to be a student at Juilliard Drama school. At the same time I was acting in the movie that started my career called Ordinary People.
It was my intention to continue the training I had begun when I finished the movie, but because I was getting offers for other roles that were really enticing to me, I didn't.
Juilliard had already instilled in me this kind of curiosity about the craft of acting in the theatre, I did so many plays, it was the education I was looking for and I don't think that I could have figured out how to be an actress, how to be a performer without that experience.
4. Stay Grounded
I think that I was really extremely lucky in having a very strong family that are very much outside the business, don't know much about it and have nothing to do with it. There was always sort of a firm ground for me that was quite separate from the machinations of the business and I think that really was a source of strength to me over the years.
You have to develop resources within yourself that are quite different to the ebbs and flows of the profession. Most people who maintain a career or maintain their enthusiasm for a career in acting for a long time, do so because they have something else within themselves or in their life to return home to that is completely separate and is unaffected by it all.
So, I think I was extremely lucky in the way I started professionally but I was even more lucky in the way I started my life, so for that I am really eternally grateful.
5. Be prepared to work hard
I think for some reason people sometimes assume that Downton Abbey is just fun all the time, but it is a very difficult show to shoot.
There is so little time to do what you would do in five times that amount of time in a normal film schedule. There are huge set pieces, with lots of people in them and its very time consuming. It's definitely a grind to do and everybody feels it but it's worth it.
To be in a position where you can seize on every opportunity, you have to work very, very hard every single day. Really. Not that you don't have fun as well, but I think you have to find joy in applying yourself every single day to thinking about your craft.
I am fairly sure all the actors in Downton Abbey would agree with me, they're all very disciplined, very hard working people, we all share that trait.
6. Have a little luck
To be in a show like Downton, you need luck. I really believe after 30 years of hard work that there is an element that is beyond anyone's control which is just a kind of magic chemistry.
It's a chemistry between writing and cast and production, I think it was just luck that brought us all together with this writing that somehow connected to an audience.
7. Be emotionally strong
I think that you have to be very psychologically and emotionally strong to be a successful actress. Even though you have to be able to access the whole palette of the human experience, which is not always strength. In order to do that you have to be very strong and healthy and be able to keep your presence of mind.
I've seen so many talented people that didn't have the right balance in their life or in their psychology and you can't really survive in the business like that for very long.
I see it time and time again and it's actually more important than talent, which of course is important too.
8. Bring your own experience to a part
I was drawn to Downton Abbey, not so much because of the part, but because of the tapestry it creates, I like that, it appeals to me. So, that was my initial interest in it.
As an actress I always try to bring my own experience to a part and I think maybe that's why they hired me.
9. Listen to yourself
It's so important to listen to yourself. I think that very deep down inside we all kind of know what's right for us. I think if people trusted their instincts more, they would benefit from it.
I think deep down your own inner voice is often your best guide. I don't think anybody ever can really, really make decisions for another person, a person has to make a decision for themselves and go on and learn from it and readjust if it's the wrong one.
My youngest daughter is very, very interested in acting right now. I would never discourage it, it's really made me very happy. It's early days so we'll see.
10. Be passionate about what you do and show up
Being passionate about what you do is everything and it's never too late. If I could go back and speak to my younger self, I'd say pat yourself on the back, you're doing ok and don't worry so much. Have a little fun!
Feel your way, have courage, step by step, show up. Whatever it is, show up for it. You know one day you'll be a success, one day you'll be a failure. You'll be up, you'll be down but if you keep showing up, if you keep showing up for the appointment, audition, whatever it is, you can get there. Or, you can get as close as you're going to get and that's going to be your story.
Elizabeth McGovern is currently enjoying her other passion for performing, in her band Sadie and the Hotheads.