Kylie Minogue: 'I earned my stripes'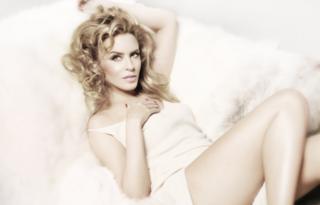 As pop princess Kylie Minogue releases her 12th album, she discusses the DNA of the "Kylie sound" and admits to wondering "can I go through this again?"
Kylie Minogue is having a wiggle.
The pop star has spent the morning perched in a leather swivel-chair, being quizzed about her new album. Now, though, it is time to loosen up.
"I realised, having been on The Voice and seeing the shows back, I don't stop moving," she laughs.
"I'm either moving around, or I'm asleep. It's one extreme or the other."
She has even instigated a regime of dance breaks on The Voice, to stop energy flagging during the talent show's gruelling, day-long recordings.
"Tom Jones has the best signature move," she announces. "It's a slow one, very assured.
"The inexperienced ones, like myself, are bouncing around but Tom's super cool."
Is there any chance Sir Tom is moving more cautiously in case he throws out a hip?
"Haha! That's right. But I'm not far behind him!"
In fact, Kylie is 28 years younger than her septuagenarian co-star and, coincidentally, 2014 marks her 28th year in showbusiness.
Since popping up as plucky car mechanic Charlene on Neighbours in 1986, she's racked up 35 hit singles, three Brit Awards and one Grammy.
She's also performed at the Sydney Olympics, launched a range of bed linen, been made an OBE, and starred in several films (although she told The Telegraph the majority of them had been "disastrous").
Now she's back with her twelfth studio album, the provocatively-titled Kiss Me Once.
It's her first record since signing to Jay-Z's management firm Roc-Nation in 2013. But, despite the presence of big name producers like Pharrell Williams, it is very much a prototypical Kylie album, packed to the brim with life-affirming disco pop.
Not that the recording process was straightforward.
When a pro forma press release sees Kylie divulge that "making this album was quite a journey", you can only imagine the turmoil that went on behind the scenes.
"It can be a bumpy road," she concedes.
"You're making the album and saying, 'Surely, we're going to hit our stride soon'. But sometimes the closer you get, the further away the finish line seems."
After several months of recording, Kylie "couldn't see the wood for the trees". She needed outside help and, for that, she turned to hitmaker, and fellow Australian, Sia Furler.
Best known as the vocalist on David Guetta's number one hit Titanium, Furler is also one of pop's most in-demand songwriters, with credits for Rihanna (Diamonds), Beyonce (Pretty Hurts) and Britney Spears (Perfume).
"I was able to offload a lot of stuff to her," Kylie says. "I mean, I gave her everything I'd recorded, which already was a lot, and she was able to come in with a fresh set of ears, some distance.
Eventually, late last year, "we started to have a collection of songs that sounded like 'Kylie Songs'. That's when I first thought I could actually see the finishing line".
Asked for the recipe to a "Kylie Song", the singer laughs - "I wish I knew!" - but eventually conjures up three key ingredients.
"It needs to be optimistic, with a sense of euphoria. It needs to have a really strong melody. And a sprinkle of fairy dust."
And Kiss Me Once has more fairy dust than Tinkerbell herself.
Cheeky, flirty and effervescent, it centres around a "sex trilogy" - Sexy Love, Sexercise and Les Sex - that encapsulates the star's naughty-but-nice persona: Much more Moulin Rouge than Miley Cyrus.
If there's a criticism, it's that the album plays it too safe.
Kylie is at her most interesting when she stops being a glitter-cannoned, hot-panted pop gargantosaur. Her most interesting songs are side projects (Where The Wild Roses Grow), cast-offs (Cherry Bomb) and soundtrack recordings (Whistle).
"I'm curious," she says. "I'll try anything.
"So even if there's a song where I think, 'Hmmm, I'm not sure if that's right for me', a bit of me is thinking, 'But you don't really know until you try it'."
One such song was Skirt, a revved-up dance track that received a limited release last year.
"It was pretty edgy for me," she says. "If you thought of the heaviest, dirtiest remix of one of my dance songs, that's where you'd end up."
But it was decidedly "a one-off thing" - never considered for inclusion on the album.
"But in the broadest sense, I'm really proud that now a Kylie album has different facets to it." she says.
"Back in the beginning, I felt I was one dimensional - or my ability to deliver was one dimensional.
"I had to fight for a few years to say, 'Wait a second, there's more sides to my personality'. And now I think people expect that in an album. For me, that's a real sense of achievement. I did it."
Does she feel she gets more respect now?
"Absolutely, yeah. And, although it frustrated me early on, I really understand and appreciate that I hadn't earned my stripes.
"There's a saying I heard about a decade ago that really stuck with me - that there's no shortcut to learning your craft. That makes sense."
Despite sustaining a career over three decades, Kylie says it's still "nerve-racking" when a new album comes out.
To her relief, it looks like Kiss Me Once will enter the top three on Sunday - but she admits to wondering "Could I go through all of this again?"
"Making a new album is a crazy thing to embark upon," she says, "but you're working with talented, creative artists, and I love hanging out with people like that.
"I mean, think about it: You start with nothing. Someone makes beats, someone puts chords down, someone sings. It's cool. It's a surprise every time."
Kiss Me Once is out now on Parlophone.