UK theatres welcome Budget tax breaks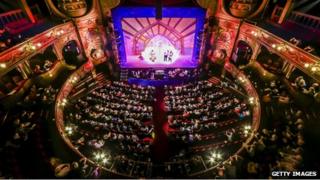 New tax breaks for plays, musicals, operas, ballets and dance have been welcomed by the British arts community.
In his Budget, Chancellor George Osborne announced that touring productions would get 25% tax relief and other productions would get 20%.
UK Theatre president Rachel Tackley told The Stage the move would have "a serious positive impact".
Julian Bird, chief executive of the Society of London Theatre, described it as "potentially transformational".
It would particularly benefit regional theatre and tours, he told The Guardian.
"It's a massive vote of confidence from the government for one of our major industries and puts theatre on a par in tax terms with the film industry," he said.
'Golden egg'
National Theatre artistic director Nicholas Hytner said he believed the government had realised the theatre industry was "a golden egg".
"The tax breaks, which apply much more to commercial theatre than subsidised theatre, are unequivocally a good thing," he said.
"They are an imaginative and considered response to the challenges of theatre production."
The tax credit will be available to both commercial and subsidised theatres, and the government predicted that it would be worth £15m in 2015/16.
Many cultural venues have come under financial pressure in recent years as a result of funding cuts from Arts Council England (ACE) and local councils.
UK Theatre's Rachel Tackley told the Financial Times: "There will be an underlying sensitivity over whether this means the Arts Council England funding is further jeopardised... We mustn't sleepwalk into giving anybody the excuse to cut the funding to ACE still further."
The chancellor said he hoped the scheme would emulate the success of the film tax breaks that were introduced in 2006.
In his Budget on Wednesday, the chancellor also confirmed a change to film tax rules, meaning movies would have to spend 10% of their budgets in the UK to qualify for tax breaks, down from the previous minimum of 25%.
Earlier this year, the British Film Institute said the tax breaks played "a major role" in attracting international productions to the UK and provided "vital support" for British films.