Asia's indie music moves to a different beat
By John Clewley
Photographer, writer and editor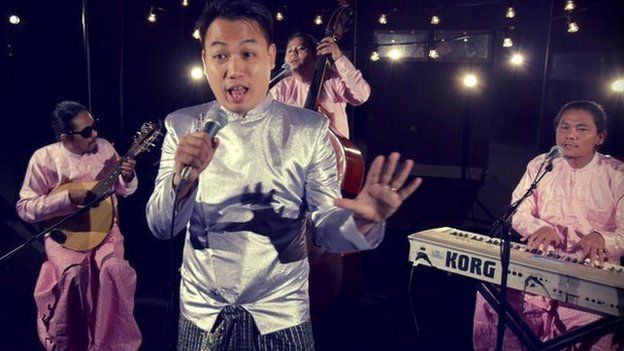 The Asian music scene is dominated by juggernauts. The sound factories of Indian, Japan, Korea and most recently China churn out hits and these Bollywood, J-pop, K-pop and C-pop songs beam out of millions of mobile phones and Ipads across the region.
With the rapid economic rise of India, China and Korea, along with the 'tiger' economies of South East Asia, entertainment has boomed. A growing Asian middle class, with greater disposable income than ever before, has fuelled the growth in concerts and festivals.
Talent and reality TV shows featuring aspiring singers are screened in nearly every Asian country. Right now, Korean girl groups and boy bands are hot, but before that it was Japanese and Taiwanese. Perhaps China is next.
If the music of Japan and Korea has dominated at home and in neighbouring countries, then India is the domain of Bollywood and its movie music machine.
But many Asian countries have vibrant rock, indie and club scenes, and you can find local takes on just about every Western genre you can think of.
And what about musicians who do not want to follow the mainstream?
Scratch below the surface of the pop and glitter and you can find some exciting, innovative and creative musicians because as middle class aspirations have risen, so has the need for personal expression and individualism.
It is no accident that there are booming fine art scenes in places like Bangalore, Bangkok, Jakarta and Shanghai. Artists and musicians alike are dealing with issues of modernity and tradition, and in some cases, re-imagining their own culture and music.
Japanese musicians were the first to reassess their musical roots, when in the late 1980s bands like Shang Shang Typhoon looked to a wave of musicians emerging from Japan's only living folk culture, in the deep South in Okinawa, for inspiration.
A few years later, Filipina singer Grace Nono, rejecting her earlier career as a rock belter, turned to the tribal chants and narrative art of her native Mindanao, recording her songs and those of tribal groups on her Tao Music label.
Her compatriot Joey Ayala followed a similar route.
In Indonesia, SambaSunda, from Bandung in Sunda or West Java, took the gamelan music of Indonesia and began to blend it with jazz and Latin, creating a fusion that took them to the European Broadcast Union's World Music chart, the only band from South East Asia to have made it into the top 20 in more than two decades.
Different route to Bollywood
The first wave of roots musicians are well into their careers, so what we are seeing now is a new generation of musicians emerging in the region.
Take Ruhaniyat, from India, three musicians from widely different backgrounds, who say that "modern industrialised music leaves us cold".
Basing their sound on the haunting singing of the Baul people, they have added a charango from Bolivia and an Arabic oud to create a sound that is both eclectic and very traditional.
Another Indian band on the Asia Beats series, Adi and Suhail take a different route, in their case combining dance beats with Indian sarangi and Hindustani classical music to create what they call, 'electro-sarangi' music.
Talent show winners Klantink from Indonesia have a different story, one that did not require an expensive musical education.
They are all from the streets of Surabaya and they know how to survive and how to entertain. Of all the bands in the series, Klantink are the funniest - they are worth seeing just for their delightful 'sandal-percussion'.
But it is not always easy to swim against the mainstream.
Ask Burma's Thxa Soe, whose sugar-sweet music mixes popular Burmese music with hip hop. He says that before the release of Aung Suu Kyi in 2010 he suffered for being outspoken and "different". He also felt ashamed that he only knew covers from other countries and did not know his own traditions.
After immersing himself in Burmese popular music he added a hip hop/dance music element, creating a pop confection that is as disturbing as it is sweet.
In some Asian countries, just trying to be different as a musician is not easy.
A recording career is out of the question, piracy and the lack of record deals for independent artists make sure of that, and gigs can be difficult to arrange.
Despite this, many of the artists in the Asia beats series have struggled but have found their voice.
Vietnamese troubadour Nguyen Cong Hai rejects any notion of making music purely for money: "To me music is a sort of love affair… for me, it's a pleasure."
Many of them have sacrificed a lot to find their musical destiny.
Le Cat Trong Ly left her classical music studies and turned to writing her own folk-style songs and performing them on acoustic guitar. Her breakthrough in Vietnam will no doubt inspire others to try something a little different. It's not that hard, she says, "A soul is all you need."
About the author: John Clewley is a photographer, writer and editor based in Bangkok. He writes about music for the Thai press, and also for Songlines magazine. He has lived in Asia for 30 years.