Sunrise festival moves to Wales from West Country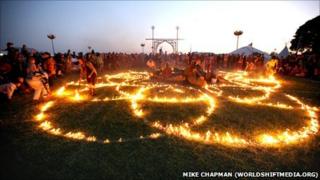 One of the earliest of the UK's major summer outdoor music festivals is crossing the Severn Estuary, from the west of England into south Wales.
The grounds of the ruined Piercefield House near Chepstow, Monmouthshire, will host the ninth annual Sunrise Celebration from 29 May to 1 June 2014.
Revellers will be offered guided nature walks, wilderness-skills workshops and a forest school for their children.
Last year it was staged on a disused golf course in Wiltshire.
Heavy rain
Run on a not-for-profit basis, Sunrise attempts to keep alive the counter-cultural spirit of the UK free-festival movement that reached its zenith when 70,000 people attended the 10th annual Stonehenge Free Festival on 21 June 1984.
In the past, money from ticket sales has funded the planting of copses of native trees, including more than an acre of wetland woodland at Gilcombe Farm, near Bruton, Somerset, the festival's former home.
Last year organisers abandoned the organic farm, on which the festival has been held since 2009, after heavy rain turned the site into a sea of mud in 2012.
They moved to the disused golf course at Thoulstone Park, near the village of Chapmanslade, on the Wiltshire side of the border, despite initial opposition to the event from local councillors and residents.
Grow stronger
In 2008, flash flooding caused the third annual event, at Bearly Farm, Tintinhull, to be abandoned just after the gates had opened, leaving hundreds of festival-goers stranded.
Festival co-founder and 2014 head of production Sun Bird said: "Sunrise Celebration has gone through yet another rebirth, but this time it is heading back to its roots with lots of the original content.
"We are a family/tribe of people that live in different places and use Sunrise as a chance to meet up and exchange stories and experiences so that we can grow stronger and more resilient in these troubled times."
Another of south Wales' country estates, Glanusk Park, near Crickhowell, Powys, has hosted one of the UK's most popular alternative festivals, Green Man, since 2006.