Yves Saint Laurent: Fashion on film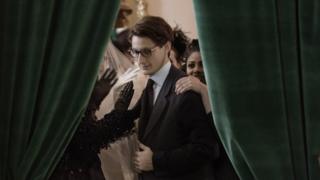 Yves Saint Laurent became head of one of the world's great fashion houses aged 21. Until his death half a century later in 2008, he was one of fashion's dominant figures. This year sees the release of two feature films about his tumultuous professional and private life. The first opens this week in the UK.
Earlier masters of Parisian couture such as Christian Dior or Cristobal Balenciaga shaped fashion around the world. But until Yves Saint Laurent, no designer found such personal fame with the public.
In the 1960s and 1970s he was a regular in gossip columns, photographed endlessly with the likes of the Rolling Stones, Andy Warhol and the most gorgeous models of the day.
Born in colonial Algeria in 1936, Saint Laurent became an extraordinary prodigy.
Always obsessed with fashion, as a painfully shy teenager he moved to Paris to work for Dior. Three years later, Christian Dior died and Saint Laurent took over as artistic director at just 21. Many in the fashion world were astounded but it was clear a star had arrived.
Pierre Niney takes the title role in the first of two rival biopics out this year. At 25, he is well-known in France, with an obvious talent for comedy. He's also a good physical match for Saint Laurent in his younger and more handsome days.
"I did five months of preparation on his life and character," Niney says.
"I met many of the people Yves knew. The centre of the film is his relationship with Pierre Berge, who was Yves' partner in business and in his private life.
"I was lucky to sit down with Berge - who's now 83 - and discuss their life together. It was a privilege and a big help because mainly the film is their love story."
The director of the film, simply titled Yves Saint Laurent, is Jalil Lespert, previously an actor in the likes of Tell No-One. He, too, was fascinated by the men's long friendship.
"Saint Laurent always had a revolutionary vision for women's fashion - but fate gave him his moment very early and without Berge perhaps he would never have achieved so much.
"To give a purpose to life there has to be someone you love and who loves you back - otherwise what in life makes sense? Yves needed Berge emotionally, although our screenplay is honest about the problems they had later on," he explains.
"YSL's best designs had a purity to them: he was a sort of poet of fashion. But I also wanted people to see he was funny, at least with his intimate circle when I think his diffidence disappeared a little.
"Of course it's good that Pierre Niney resembles Yves but the casting is also because I knew he would bring out that humour."
Lisa Armstrong, fashion editor of the Daily Telegraph, says Yves Saint Laurent remains a major figure.
"He had an innate talent but he was also very quick to grasp that in the 1960s, the so-called 'youthquake' was changing all kinds of culture - not just clothes. The French worried the centre of fashion was drifting north to London: YSL was vital in pulling it back to Paris.
"And his partner, Pierre Berge, combined aesthetic insight with business sense - that's very rare."
Armstrong says the film shows how they complemented one another, without quite finding a way to dramatise how Saint Laurent totally changed female fashion.
"He gave us individual pieces like the famous 'smoking' tuxedo in 1966 and the safari look. After he split with the House of Dior, he and Berge moved fashion away from haute couture towards pret-a-porter.
Armstrong says the designer "gave us the concept of cool on the catwalk, leaving behind the elegant but slightly old-fashioned look which dominated for years. His big idea was that women could be sexy, modern and emancipated by looking slightly androgynous.
"Women don't think twice today about slinging on a boyfriend shirt or even boyfriend trousers - but we've forgotten that that Left Bank insouciance was basically down to Yves Saint Laurent. Putting a woman into an elegant trouser suit was a revolution. "
The French actor Guillaume Gallienne plays Pierre Berge in the film.
"He's much better known now than in the early years. Even in France, few people in the 1960s and 1970s would have known what he looked like, which obviously wasn't true with Yves."
Berge has actively assisted in the making of Lespert's film - providing access to locations and designs - whereas he had no involvement with the other imminent biopic, starring Gaspard Ulliel and Jeremie Renier.
Gallienne insists they didn't trade independence for cooperation.
"Pierre Berge has always known how to recognise an artist. He saw it in Yves, in the fabulous artists they collected together and he saw it with Jalil as a filmmaker.
"That's why he said yes to the project. But as an actor I didn't set out to please Pierre Berge with my performance.
"And he didn't interfere with the script at all: There was nothing we didn't allow ourselves to think or do. And I'm very proud of the film which emerged. It's a love-story between two men but no one is labelling it as a gay movie.
"I love showing a younger generation how in the 1950s these two very different men were so strong and audacious together."
The film grows darker as it records Saint Laurent's acknowledged dependence on drink and drugs as he struggled against depression and the pressure of producing two collections a year.
The young Saint Laurent - timid but possessed of a sly charm and huge energy - became heavy and lethargic. At times he seemed barely to know where he was.
Lespert says that part of the problem was that Saint Laurent and Berge found success very quickly. The move into ready-to-wear fashions supplied vast amounts of money.
"Often when you reach the top, things change and you lose the taste for life. Things become less interesting. Yves wasn't the first person to discover that.
"But despite the problems and the pressures, Yves and Pierre succeeded in passing through life together for many years. And that is the story we are telling."
Yves Saint Laurent is released in the UK on 21 March.