Kanye West gets two years probation in assault case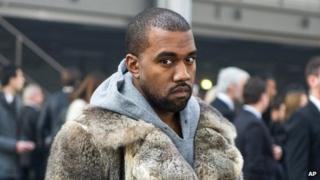 Rapper Kanye West has pleaded no contest and been sentenced to two years probation for assaulting a photographer at Los Angeles International Airport.
He must also attend 24 anger management sessions and complete 250 hours of community service for the misdemeanor battery last July.
Paparazzo Daniel Ramos accuses the rapper of punching him and grabbing his camera in an unprovoked attack.
The 36-year-old rapper maintains his innocence.
The plea cannot be used against him in a civil lawsuit brought against him by Ramos, reports the Associated Press news agency.
'Not safe'
The photographer alleges he still takes medication for injuries from the attack.
"I was doing my job and he broke the law," Ramos told US media. "If I did what he did to me, I'd be behind bars."
Ramos also alleged he was fearful of retaliation after comments by West on a TV show in October.
"It's not safe for you in this zoo," West told host Jimmy Kimmel when asked about paparazzi.
"Never think that I'm not from Chicago for one second."
West was also arrested in 2008 following another altercation with photographers at the same airport.
That case was dismissed after he paid for their broken equipment and attended anger management counselling.
Earlier this year, the rapper reached a civil settlement with another man he had been accused of assaulting in Beverly Hills.
The man had used a racial slur in an argument with West's fiancee, Kim Kardashian, according to court papers.
No charges were filed in that instance.