TV cook Clarissa Dickson Wright dies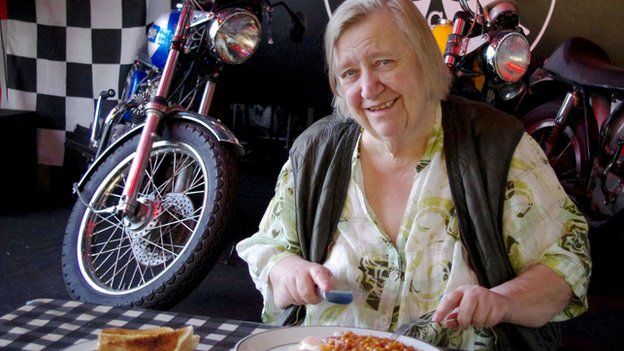 Clarissa Dickson Wright, one half of TV cookery duo Two Fat Ladies with the late Jennifer Paterson, has died in Edinburgh aged 66.
The former barrister filmed four series of the BBC Two programme before Paterson's death in 1999.
"Her fun and laughter, extraordinary learning and intelligence, will be missed always, by so many of us," said a statement from her agent.
Dickson Wright died on Saturday at Edinburgh's Royal Infirmary.
"Loved dearly by her friends and many fans all over the world, Clarissa was utterly non-PC and fought for what she believed in, always, with no thought to her own personal cost," said agent Heather Holden-Brown.
She and Paterson were brought together for Two Fat Ladies by TV director Patricia Llewellyn in 1996, during which they were often seen travelling the UK together in their motorbike and sidecar in search of good British grub.
"She died magnificently, she was an example to all of us, if I can die that well I should be very happy."
During the same interview Dickson Wright also explained her "pathological" hatred of the humble carrot.
"My father used to pull them out of the ground and dust them off and feed them to me with the slugs on them so I think I got put off them. Now of course I would quite readily eat the slug but I still have this thing against the carrot," she said.
Dickson Wright's former career as a young barrister at Gray's Inn was brought to "an abrupt end" by her well-documented battle with alcohol, which she wrote about in her autobiography Spilling the Beans.
Her forthcoming birthday on 24 June would have marked her 27th anniversary of abstinence, a birthday her agent said "meant much more to her than another year on the clock".
During an interview with The Guardian in 2009, she said of her AA meetings: "You'd go there and you'd know they would be pleased to see you without wanting anything from you.
"And that you could talk about the stresses in your life. To me it's very important to go to AA. It helps with the serenity levels."
She added: "I don't mind people drinking. I keep a very good cellar for my friends in my house - it's only me who doesn't drink."
Celebrity chef Brian Turner called Dickson Wright a "very intelligent lady".
"She was very outgoing," he told BBC News. "She knew what good service was all about… she did her own thing."
After leaving law, she worked as a cook at St James's club in the capital and in private houses before managing the Books for Cooks shop in London's Notting Hill, then the Cooks Book Shop in Edinburgh.
During her cooking career, Clarissa ran her own catering business, worked on a yacht in the Caribbean and served 60 meals a day at her London luncheon club.
She also became one of only two women in England to become a guild butcher.
She recently said: "I've had a fantastic life and I've done everything I could have wanted to do and more".
Dickson Wright was also an outspoken campaigner for rural life and a keen supporter of the Countryside Alliance and after Paterson's death, she made the controversial series Clarissa and the Countryman, which ran until 2003.
During an interview with The Telegraph in 2012, to promote her book Clarissa's England, she accused the BBC of dropping her and the show because she went too far in praise of hunting, angering then-Prime Minister Tony Blair.
"Those were glorious years," she said of the time. "There we were, fighting the war against them on the same BBC that the leader considered his own personal mouthpiece."
Dickson Wright was particularly proud of her time working with students as the Rector of the University of Aberdeen between 1998-2004.
A spokesman for the university said it was "saddened" by her death, adding on Twitter that she had "brought her individualism and style to many University of Aberdeen events."
After being raised as a Catholic "her faith remained with her, in her own personal way, for the rest of her life, a life lived fearlessly and with conviction," according to her agent.
When asked during an interview if she wished the show that propelled her to fame had been called something other than Two Fat Ladies, she replied "no".
"If you're fat you're fat. I hate this modern-day political correctness, that you don't call things by their proper name," she told The Guardian.
She was christened Clarissa Theresa Philomena Aileen Mary Josephine Agnes Elsie Trilby Louise Esmerelda Dickson Wright.
In her autobiography, she talked of "a well-to-do, privileged upbringing", that was overshadowed by her surgeon father's drinking.
"It was like having a wild animal in the house, never knowing when it is going to roar. The only time we felt safe was when my father was abroad or, in my case, when I was at boarding school," she wrote.
Born in 1947, she was the youngest of four children, with her closest sibling, brother Anthony 13 years her senior.
She said the years that followed her father leaving the family were happy and, at 21, she became the country's youngest female barrister. But she took to drinking after the death of her mother.
"The beginning of my drinking career was rather enjoyable. I was rich, good-looking and kept the pain at bay on a wave of champagne and gin," she said.
She never married but while working at St James Club met Clive, "the man I was to love more than any other in my life".
"Like me, Clive was a dedicated alcoholic," she wrote. He died in 1982 after his kidneys failed.
She has been declared bankrupt several times, having spent her £2.8 million inheritance on "drinking and debauchery".
"[It was] my own stupid fault. I've always been bad with finance," she told The Telegraph.
"It's from not having to worry about it. If you grow up with money, you never really learn that it doesn't grow on trees."