Whiley and Lamacq reunite for Britpop 'birthday'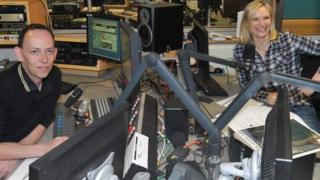 BBC radio presenters Jo Whiley and Steve Lamacq are to reunite for just one week when their Evening Session returns to celebrate 20 years since the emergence of the Britpop scene.
The pair, who worked together for four years on Radio 1, will return on BBC Radio 2 from 6 to 11 April.
Their shows will feature Chvrches and Sophie Ellis-Bextor performing live cover version of songs from the era.
It is part of a Britpop season of shows on Radio 2, BBC 6 Music and BBC Four.
Whiley and Lamacq will broadcast from the BBC's Maida Vale studios and also talk to guests including Gaz Coombes of Supergrass about memories of the time. The shows will feature archive recordings from the Evening Session's heyday.
Britpop emerged in the UK during the 1990s and was characterised by guitar bands such as Blur, Oasis, Suede, Pulp, Supergrass, Sleeper, The Verve and Elastica.
Many of the bands drew their influences from 60s bands including The Beatles, The Kinks and The Who. Britpop's success grew as US grunge bands such as Nirvana became less dominant on the music scene.
This is not the first time that Whiley and Lamacq have returned to the airwaves. They briefly reunited in 2010 for one show on BBC 6 Music, when they chose their favourite live acts from the Evening Session programmes.
They took over the Evening Session together in 1993 and Lamacq went on to host it alone from 1997 to 2002 when Whiley moved on to Radio 1's mid-morning programme.
'Tectonic plates'
Whiley said: "I will always jump at the chance to work with Steve. He is my radio 'other half' and we did fight the Britpop wars together after all.
"It was a great time to be a DJ on UK radio but, as ever, when you're in the eye of the storm, you are blissfully unaware. It's only in hindsight that you appreciate what a privilege it was to live and work through such an exciting time for British music."
Lamacq added: "For me, this is the week 20 years ago that the musical tectonic plates shifted. On the Tuesday, Oasis played live on Radio 1 for the first time and on the Friday morning we heard the news of Kurt Cobain's death.
"It was as if one scene had announced it had arrived, as another began to lose its way."