Lynda Bellingham says that cancer treatment is "going well"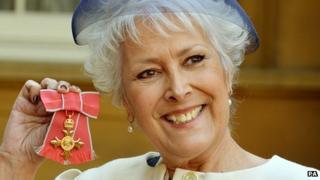 Actress and TV presenter Lynda Bellingham has said that her treatment for cancer is "going swimmingly".
The 65-year-old, who disclosed she had been diagnosed with the disease last summer, said her acting career was on hold while she had chemotherapy.
"I'm still at it all, getting out there and giving it some welly," she added at a ceremony to receive her OBE at Buckingham Palace.
The former Oxo adverts star has not disclosed the details of her illness.
Bellingham, who was also a regular on the panel of ITV daytime show Loose Women, said she was busy with charity work while her screen career is taking a back seat.
"It's been well documented I'm dealing with cancer and having chemotherapy so unfortunately my acting career is on hold - in the sense that I need to pay attention to the chemotherapy really, but hopefully eventually one will get back into it."
Speaking after her investiture ceremony overseen by the Prince of Wales, Bellingham added: "I'm having treatment it's all going swimmingly, but it obviously becomes part of your life and you have to deal with it, so that's what I'm doing.
"I've got lots to be doing, lots of charity work. I only mention the cancer because you have to get into a routine with that and work your life around that - once you've factored it in then you work around it."
The actress was forced to pull out of of a UK tour of Kay Mellor's play A Passionate Woman, but vowed to appear in the show after dealing with her illness.
Bellingham, whose career credits also include TV drama All Creatures Great and Small and the stage version of Calendar Girls, is also working on a second novel.
Her debut, Tell Me Tomorrow, was published last year.