Disney Channel to make first UK production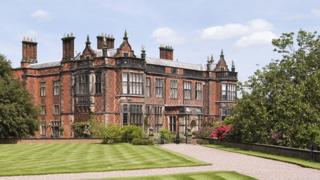 The Disney Channel is to make its first UK live action production, set in a Cheshire country house.
Evermoor, about an American teen who is uprooted from her city home in the US for a new start in England, will be filmed at Arley Hall, near Warrington.
It will be produced by Liverpool-based Lime Pictures, the company behind Hollyoaks and The Only Way is Essex.
Due to air this autumn, it will be the first UK Disney production to be shown on the Disney Channel US.
Billed as a mystery adventure, the film will see 14-year-old Tara Bailey move into beautiful but spooky Evermoor Manor, where she discovers a magical tapestry which seemingly predicts the future.
The project has been described as a "multi-part movie", but Lime Pictures' head of drama, Rebecca Hodgson, told the BBC News website it could either be screened as a single film, or as a four half-hour series.
She added the film had both a "British and American sensibility", although there had been "a dialogue polish to make sure we get certain words right".
Filming is planned to start at Arley Hall at the end of April.
Hodgson said the Victorian house - which has previously featured in programmes including Hollyoaks, Coronation Street and The Forsyte Saga - was chosen after an extensive location scouting in north-west England.
"We were looking for a really interesting old house which had to be inviting enough that you would want to go in, but might have a little bit of a sinister side to it as well," she said.
Casting has yet to be finalised, although Hodgson said producers were open as to whether the actress playing the heroine is from the UK or the US.
Disney Channel films have a good track record of becoming worldwide hits and creating stars such as Zac Efron, Vanessa Hudgens and Demi Lovato from musical movies High School Musical and Camp Rock.
Evermoor is not expected to feature any musical numbers however.
"There's no singing, but there is quite a lot of comedy - it's very funny," Hodgson said.
The Disney Channel's David Levine said: "Evermoor is a hugely exciting project for the team with a gripping story that I'm sure will captivate our global Disney Channel audience."