BBC Three show denies censorship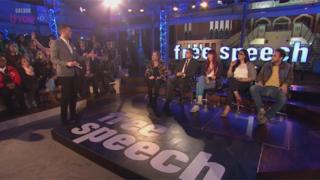 The makers of a BBC Three show claim a discussion about being gay and Muslim was cut because of security concerns.
Wednesday's edition of Free Speech drew criticism on Twitter after the live show pulled a question asking "when will it be right to be Muslim and gay?"
Host Rick Edwards told the audience the debate would be postponed because of concerns expressed by the Birmingham mosque where the show was held.
But the mosque said it was not aware the programme would discuss the topic.
The show ran a pre-recorded section featuring drag-queen Asifa Lahore speaking about his sexuality and posing his question to the Muslim community.
After the clip, presenter Edwards told the studio audience: "We were going to debate that question but today after speaking to the mosque they have expressed deep concerns with having this discussion here. They were happy for us to play that video and we will talk about it on our next programme on 25 March."
'Not censorship'
A statement from BBC Three's Free Speech, issued on Friday, said: "The mosque received threats which gave us cause for concern to the security of their community.
"Discussions took place within two hours of the programme being broadcast live as to the best way to proceed, bearing in mind the security of the mosque and respect for their concerns over offending their community.
"As a result the production company, together with the BBC and the mosque, made a considered decision to postpone the debate."
"This was a decision taken responsibly, with a great deal of thought, consideration and respect and not in any way about censorship of an issue. We were transparent with the audience about the decision."
"The impression given was that BBC Three wanted to discuss immigration." Moahammad Naseem, chairman of Birmingham Central Mosque told BBC Radio 4's Today programme on Friday.
"All the members of the committee were just informed 10 minutes before the programme started that they wanted to discuss homosexuality."
"If it was said that anything was permitted...it was in the context of immigration," added Mr Naseem.
"I find it very strange that at the last minute they informed us that they wanted to discuss something else."
The statement from BBC Three stressed that Birmingham Mosque had offered the venue and when asked if there were any issues for discussion that would be off-limits "no concerns were raised".
"Neither the production company nor the BBC would have chosen a venue that unduly limits topics for discussion."