Stars gather to honour Sir David Frost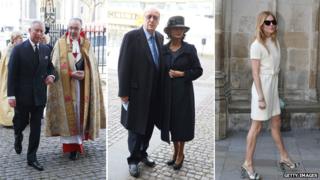 Leading figures from the world of politics and showbusiness have been remembering Sir David Frost at a memorial at Westminster Abbey.
Around 2,000 guests, including royalty, paid tribute to the broadcaster, who died last August.
Sir David's widow, Lady Carina Fitzalan-Howard, and the Prince of Wales laid flowers on a dedicated memorial stone in Poets' Corner.
His three sons took part in the service, reading poems and prayers.
There were readings by Sir Michael Parkinson, Joanna Lumley and BBC director general Tony Hall.
Former director general Greg Dyke also read an address.
Ronnie Corbett, who worked with Sir David in the 1960s was among those reading prayers during the service.
Lumley paid tribute with a comic sonnet that she had written with Sir Richard Stilgoe.
It opened with the line: "Shall I compare thee to Sir Robin Day?"
"No more TV-am, no Al Jazeera - We end not a career, but end an era;
"For now he's gone, ascended into orbit, And 'I look up to him' (quoth Ronnie Corbett)."
Hymns included He Who Would Valiant Be and Jerusalem.
Sir Michael Parkinson, who read from the Bible, was best man at Sir David's wedding. "We've been friends for 40 years or more," he said. "I miss him greatly."
The actress Felicity Kendall lived in the same square as Sir David Frost in Chelsea for 20 years. Her eyes hidden behind sunglasses, she told BBC: "He was a lovely man."
Sir David, known for his incisive interviews, spent more than 50 years as a television star.
He is possibly best remembered for his series of interviews with Richard Nixon.
In a series of interviews with Sir David in 1977, the former US president dramatically admitted his part in the Watergate affair, which had led to his resignation in 1974.
The encounter later formed the basis of the play Frost/Nixon, which was made into an award-winning film with Michael Sheen playing Sir David.