Chatsworth House hosts Michael Craig-Martin high heels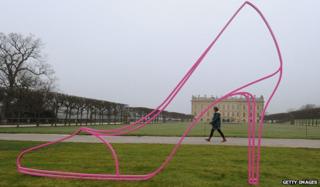 Twelve contemporary sculptures by Michael Craig-Martin, including pitchforks, umbrellas and a pink high-heeled shoe, have taken residence in the gardens of Chatsworth House.
Based on a series of line drawings by the Irish artist, the new works were made out of brightly-painted steel, especially for the show.
It runs from 16 March until 29 June.
The Duke and Duchess of Devonshire have a tradition of displaying contemporary art at their Derbyshire stately home.
The 12 sculptures, which also include a garden spade, a red wheelbarrow and some blue scissors, are one of three parts to the exhibition.
Inside the house Craig-Martin has curated a series of 12 head portraits from Chatsworth's vast collection of old master drawings including drawings by Hans Holbein, Annibale Carracci and Ghirlandaio.
He has also turned the plinths in the house's sculpture gallery a bright magenta colour, highlighting the traditional grey marble of the 20 sculptures in the Devonshire Collection which date from the 19th century.
Chatsworth House has also welcomed a new installation from the artist Jacob van der Beugel, which will be part of their permanent collection.
The 659 textured handmade panels took four years to make and represent DNA.