The Big Bang Theory extended for three series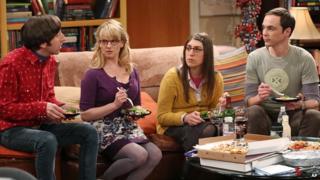 Long-running US sitcom The Big Bang Theory has been extended for a further three series, broadcaster CBS has said.
The show, which centres on a group of high-functioning science "geeks", is now due to air until at least 2017.
The most recent series, which is screened on Channel 4 and E4 in the UK, was seen by almost 20 million viewers in the US.
"The Big Bang Theory is the biggest comedy force on television," said CBS entertainment head Nina Tassler.
She also hailed the partnership between the broadcaster and Warner Bros, who make the programme.
Actor Jim Parsons, who lies at the heart of the show as a scientific genius with negligible social skills, has already won three Emmy Awards for his role as Dr Sheldon Cooper.
According to Hollywood publication Variety, Parsons - along with his principal co-stars - are currently in negotiations to renew their contracts on the show.
The programme, which is currently in its seventh season, was the top-rated sitcom on US television in 2012-13.
Its co-creator Chuck Lorre is also behind comedy Two and a Half Men, which is also likely to be renewed along with his other current hits, Mike and Molly, and Anna Faris sitcom Mom.